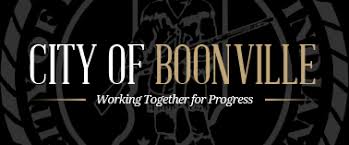 The following are documents filed with the Indiana Utility Regulatory Commission (IURC) by the City of Boonville in Cause No. 45069:
45069_Boonville_Verified_Petition_032618
Testimony prefiled by the City of Boonville:
Clint Roos describes two solar projects as a part of this filing: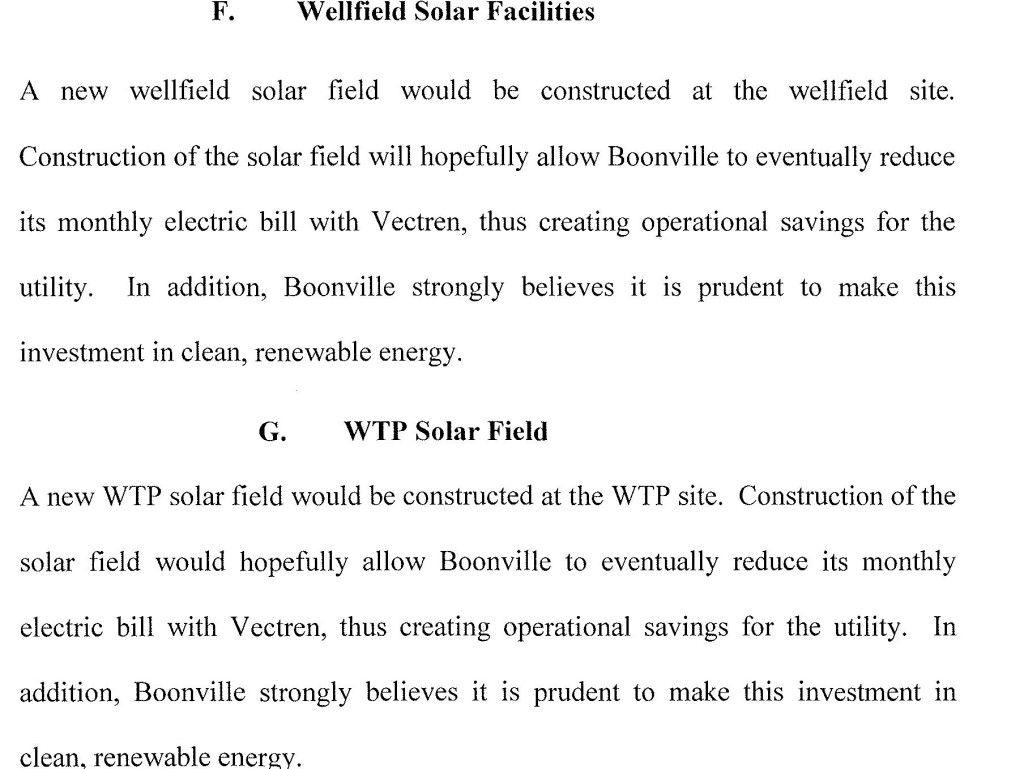 45069_Boonville_Direct_Testimony_Clint_Roos_032618reduced
45069_Boonville_Ex_4_Direct_Testimony_John_Seever_032618
The Office of the Utility Consumer Counselor (OUCC) prefiled testimony by three witnesses. Kaufman and Parks filed testimony opposing the City of Boonville's proposed solar project.
45069 OUCC PublicEx1TestimonyMargaretAStull 080318 no discussion of solar project
45069 OUCC PublicEx2TestimonyEdwardRKaufman 080318
45069 OUCC PublicEx3TestimonyJamesTParks 080318
On August 29, 2018, Boonville filed the following motion with the Indiana Utility Regulatory Commission (IURC) in Cause No. 45069.
PETITIONER'S UNOPPOSED MOTION TO MODIFY PROCEDURAL SCHEDULE AND VACATE SEPTEMBER 18, 2018 EVIDENTIARY HEARING
City of Boonville, Indiana ("Boonville"), by counsel, respectfully requests the Commission modify the procedural schedule in this Cause as follows:
Boonville is scheduled to file its rebuttal testimony on August 29, 2018. A final evidentiary hearing is currently scheduled to take place on September 18, 2018.
In the course of preparing its rebuttal testimony, Boonville discovered that certain schedules and evidence in its prefiled direct testimony and exhibits regarding periodic maintenance and the solar project were incorrect and/or incomplete.
In order to correct its prefiled testimony and exhibits and provide an opportunity for review and response by the Office of Utility Consumer Counselor ("OUCC") and any Intervenor, Boonville would propose the following:
(i) Boonville files supplemental testimony on or before September 5, 2018. The supplemental testimony will only address (and correct) the issues regarding periodic maintenance and the solar project.
(ii) The OUCC and any intervenor would prefile its supplemental testimony and exhibits on or before October 3, 2018.
(iii) Boonville would prefile its rebuttal testimony on all issues on or before October 19, 2018.
(iv) The parties would propose an evidentiary hearing on or about November 15 or November 16, 2018. The parties anticipate that the hearing will not require more than a day.
Here is the testimony filed on 9/5/18 by the City of Booneville:
45069 Boonville 2ndSupplTestimonyJohnSeeverEx14through16 090518
45069 Boonville SupplTestimonyClintRoosEx9through12 090518
45069 Boonville SupplTestimonyShawnWrightEx13 090518_no solar
This page will be updated again when the OUCC and intervenors prefile additional testimony on or before 10/3/18.