The following information is provided as a general guideline for the schedules and deadlines for the 2015 session of the Indiana General Assembly.
The definitive source for information about the 2015 session is the "official" website:
The suggested time slots for the two key committees addressing energy and utility issues are as follows:
Senate Utilities Committee will meet on Thursday mornings
House Utilities, Energy and Telecommunications Committee will meet on Wednesdays at

1:30 pm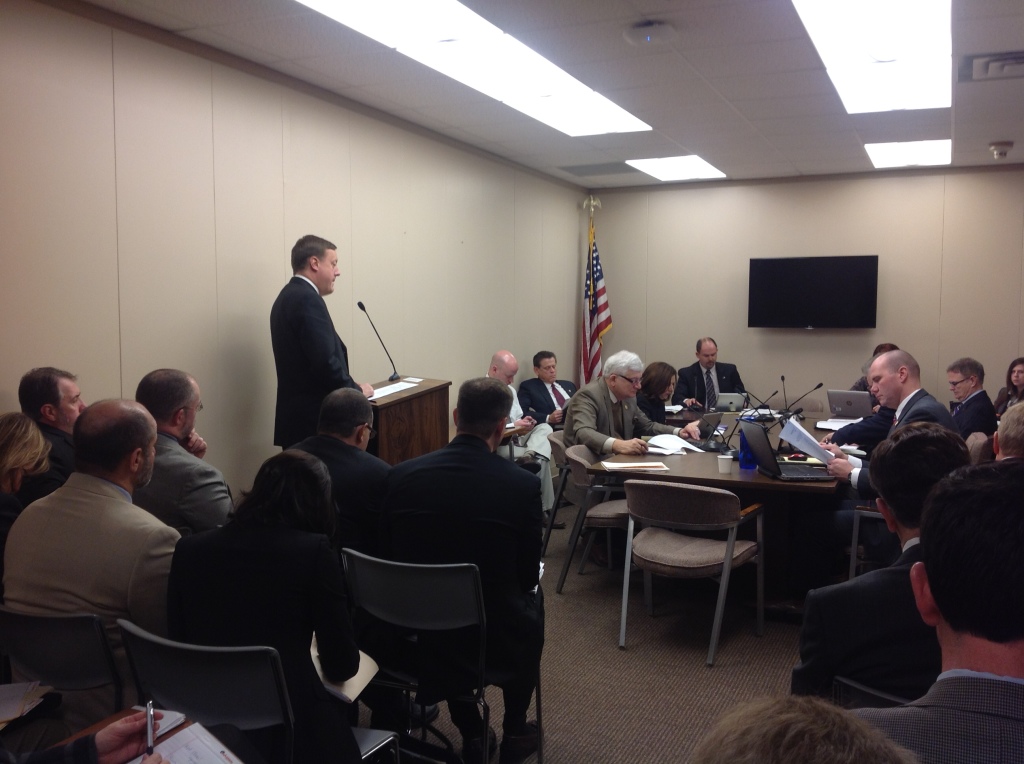 Rep. Eric Koch (R-Bedford) presents a bill to the House Utilities and Energy Committee during the 2014 session.
In most cases, these committee hearings will be streamed live on the Internet so if you are working in the office on Thursday mornings and/or Wednesday afternoons you may want to tune in and watch. It is definitely an educational experience.
These general time slots for committee hearings are always subject to change and at the sole discretion of the committee chair.
| | |
| --- | --- |
| Monday, October 20, 2014 | Senators may begin filing bills for the 2015 Session. (Senate Rule 44) Senators can file no more than a total of ten bills or joint resolutions (Senate Rule 48(a)) |
| Tuesday, November 18, 2014 | Organization Day for the 2015 Session (IC 2-2.1-1-2(a)) - Representatives may begin filing bills (House Rule 103). |
| Thursday, January 8, 2015 | Senators may file only two bills per business day beginning today. (Senate Rule 48(a)) |
| Monday, January 12, 2015 | Latest day session must reconvene (IC 2-2.1-1-2(d)) |
| Tuesday, January 13, 2015 | Deadline for filing House bills (Fourth meeting day in January)(House Rule 107.1, not later than 2:00 p.m.) |
| Wednesday, January 14, 2015 | Filing of House vehicle bills (Fifth meeting day in January)(House Rule 106.1) |
| Wednesday, January 14, 2015 | Deadline for filing Senate bills (Senate Rule 48(a)) not later than 4:00 p.m. |
| Wednesday, January 21, 2015 | Last day Senate bills may be assigned to Senate committees. (Seven (7) calendar days following the last day for filing Senate bills and resolutions (Senate Rule 49(a)) |
| Ten (10) calendar days after filing | Last day House bills may be assigned to committees unless committees have not been appointed, in which case bills shall be referred within ten (10) calendar days after the appointment of committees. (House Rule 112) |
| Wednesday, February 25, 2015 | Last day for 3rd reading of House bills in House (House Rule 147.1) |
| Wednesday, February 25, 2015 | Last day for 3rd reading of Senate bills in Senate (Senate Rule 79(a), subject to Senate Rule 88(b)) |
| Noon Thursday, February 26, 2015 | Last day for Senate to receive House bills (Senate Rule 79(c), subject to Senate Rule 88(b)) |
| Wednesday, April 15, 2015 | Last day for 3rd reading of Senate bills in House (House Rule 148.1) |
| Wednesday, April 15, 2015 | Last day for 3rd reading of House bills in the Senate (Senate Rule 79(b)) |
| Wednesday, April 15, 2015 | Last day for House adoption of conference committee reports without Rules Committee approval (House Rule 161.1) |
| Wednesday, April 15, 2015 | Last day for Senate adoption of conference committee reports without Rules Committee approval (Senate Rule 86(j)) |
| Wednesday, April 29, 2015 | Last day for adjournment of both houses (IC 2-2.1-1-2(d)) |
Indiana House Speaker Brian Bosma also released the calendar and 2015 legislative deadlines in calendar form. Download it HERE>
2015 session calendar 11.18.14-- public_Indiana House
This 2015 session calendar shows that in general Wednesdays in the House will be reserved for committee hearings