DAN PETRELLA, THE SOUTHERN SPRINGFIELD BUREAU
Nov 20, 2016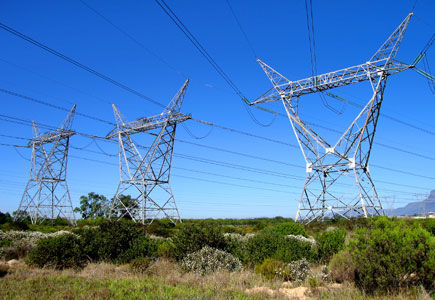 SPRINGFIELD — Communities that are home to financially struggling nuclear power plants are pushing for passage of Exelon Corp.'s proposed overhaul of state energy policy, but downstate power utility Ameren Illinois is opposing the bill in its current form.
Ameren, which delivers power to a 43,700-square-mile territory in central and Southern Illinois, has a laundry list of concerns with the bill, including the impact it would have on the power bills of its 1.2 million customers.
The proposal from Exelon and Commonwealth Edison, a subsidiary that delivers power in northern Illinois, is a massive package that includes subsidies to keep open the Clinton and Quad Cities nuclear power plants and Dynegy-owned coal plants in Southern Illinois, new rate structures for customers, and increased investments in energy-efficiency programs and renewable energy. Exelon says the bill will preserve jobs and ensure the state's clean-energy future.
Craig Nelson, Ameren's senior vice president of regulatory affairs and financial services, testified at a marathon Illinois House Energy Committee hearing Wednesday that his company supports measures that would keep power plants open and preserve the associated jobs and property tax revenue for local governments.
"However, faced with these proposals, we see our goal as ensuring all of this makes sense for our customers and our company," Nelson said.
The Exelon proposal, which the House committee approved, is the latest in a series of bills over the past two years that have grown in size, scope and cost.
Nelson said Ameren is still working on calculating the cost to its customers for the latest version. The previous version was expected to increase the average residential customer's monthly bill by 77 cents, or less than 1 percent.
Large commercial and industrial customers would have seen increases of about 2 percent and 3 percent, respectively, he said.
With the added provisions in the new bill, including the subsidies for Dynegy's coal plants, that cost is expected to increase, Nelson said.
ComEd, meanwhile, projects that the plan would raise the monthly bill of its average residential customer by 25 cents.
Another concern for Ameren — and for some consumer advocates, including AARP Illinois — is the bill's proposal to change the way customers are charged for their energy.
The bill would cut in half the fixed monthly charge, but it would shift from charging customers for how much power they consume in a month to charging based on the demand they place on the grid at given times.
A previous version of the bill would have set the charge based on the peak demand for the month, but the latest version takes an average over the course of the month.
Nelson said Ameren won't be able to shift to the new rate structure until it finishes installing smart meters for all its customers, which won't be done until late 2019.
The company wants to study demand rates more closely and would only want to make the switch if it makes sense for customers, he said.
Julie Vahling, associate state director for AARP Illinois, said demand rates, which could be confusing and unpredictable for customers, should be considered by the Illinois Commerce Commission, not the General Assembly. The commission regulates utilities in the state.
"This is not the time or the place to be addressing some of these issues," Vahling said.
Another concern for Ameren is that environmental groups supporting much of the proposal — other than subsidies for coal plants — are pushing for the company to be obligated to spend more on energy-efficiency programs than the $152 million annually the current version would require.
That's already an increase of more than 70 percent from the $89 million Ameren plans to spend next year and as high as the company can go, Nelson said
"We're at our limit," he said. "We have really stretched to get to that limit."
Nelson noted that the current proposal would require Ameren to spend as much per customers as ComEd.
"Why should our customers spend more on energy efficiency than ComEd's customers?" he said.
The bill's sponsor, state Rep. Bob Rita, D-Blue Island, has committed to continued negotiation on the bill before it's called for a vote.