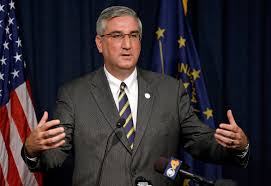 Governor Eric Holcomb please protect OUR energy choice and freedom plus protect small businesses who install solar, wind and DG systems who are creating clean energy jobs in Indiana!
SEA 309 Delivered to Governor Eric Holcomb
The President of the Senate (Lt. Governor Suzanne Crouch) signed SEA 309 today (4/25/17) and it was delivered to Governor Eric Holomb this afternoon.
According to the 2017 Bill Watch page on the Governor's website indicates that Governor Holcomb has until seven (7) days or until Tuesday, May 2, 2017 to:
1) sign SEA 309 or
2)

veto SEA 309

.
If Governor Holcomb does not sign it, it automatically becomes law on the eighth day after receipt.
Please ask Governor Holcomb to VETO SEA 309:
Call the Governor's Office at (317) 232-4567 or