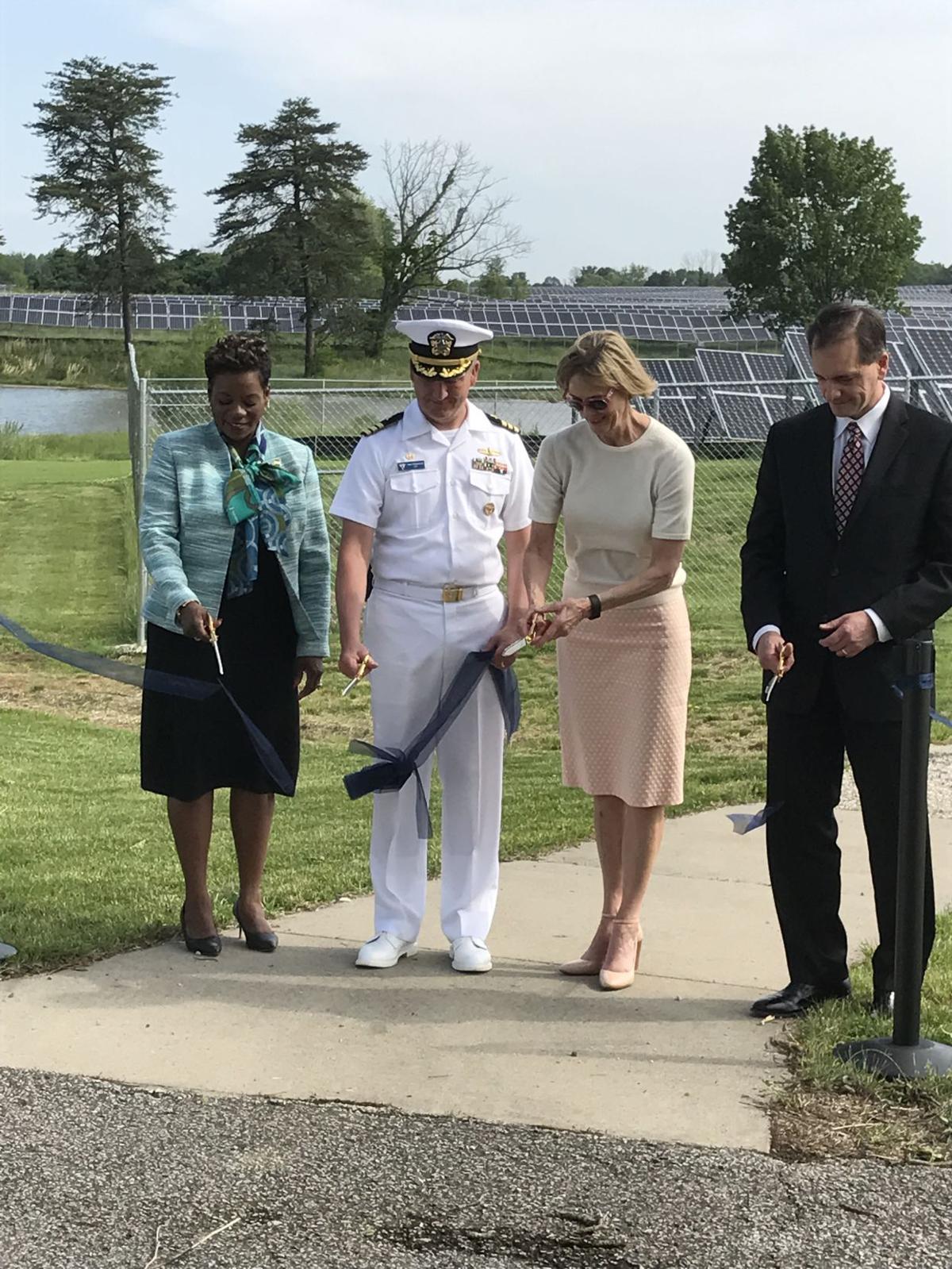 Pictured left to right: Melody Birmingham-Byrd, President of Duke Energy Indiana; Timothy A. Craddock, commanding officer, NSA Crane; Suzanne Crouch, Lt. Governor of Indiana; and John Kliem, executive director of the Department of the Navy's (DON's) Resilient Energy Program Office
Department of the Navy
Resilient Energy Program Office (REPO)
Naval Support Activity Crane
Crane solar power plant
ribbon-cutting ceremony
May 18, 2017
Commander Timothy A. Craddock, Commanding Officer, Naval Support Activity Crane:
"With roughly 76,000 solar panels stretched across 145 acres, this solar project is quite a impressive achievement and stands as our monument to our enduring relationship with the state of Indiana and our energy partners. Through this endeavor, we are providing and promoting energy sustainability and bringing renewable energy options to the installation and neighboring communities."
Remarks of Lt. Governor Suzanne Crouch:
Good Morning! What a pleasure it is to be with you today to celebrate the opening of what is and will be an example of the success that can be achieved through commitment and collaboration.
I would like to thank some key players in this collaboration who are here today: John Kliem with the Department of the Navy, Melody Birmingham-Byrd with Duke Energy, Commander Timothy Craddock with Naval Support Activity Crane and all those involved for their commitment in seeing this to fruition.
One of our countries great innovators, Henry Ford once said: "If everyone is moving forward together, then success takes care of itself."
And Gov. Holcomb and I believe that whole-heartedly.
Through partnership, commitment to community and a focus on future development – this new facility is truly the sum of those parts.
This project would not have been possible without real partnership: The innovation to bring federal, commercial and state agencies together to drive toward a common objective that is mutually beneficial.
And the benefit is always best when it is shared with our partnering community:  By providing renewable energy to Hoosiers, Naval Support Activity Crane and its Navy and Army commands, we are able to diversify our sources of energy while also caring for our environment.
From today forward this project will serve as a catalyst for future energy infrastructure projects for the Navy as well as bringing greater energy management to our state, spurring innovation and growth.
We definitely have a lot to celebrate.
I want to thank you for inviting me to share this great day with you.
In closing, I want to tell you what an honor it is to serve as your Lt. Governor.
But more importantly…I want to express my unrelenting commitment to installations, the men and women who serve our state, our nation, and their families.
Our strong military…and strong military communities are the future of the economic development and strength of our great state and our great nation.
May God bless you… May God Bless the great State of Indiana…and may God bless the United States of America.
---
Prepared remarks by Melody Birmingham-Byrd
President, Duke Energy Indiana
Thank you for that introduction. It's an exciting day, both for the Department of the Navy and for Duke Energy, as we dedicate this new Crane solar power plant to serve our customers with safe, clean, renewable solar energy.
It's an honor to partner with the Department of the Navy and Naval Support Activity Crane to bring this new solar power plant to life here in southern Indiana. These organizations have been wonderful partners to help us build, operate and maintain this facility which can generate 17 megawatts of energy for our customers – enough to supply the power needs for nearly 7,000 average residential homes.
Our customers tell us, time and again, that they want a cleaner energy future. To adapt to this future, Duke Energy continues to change the way we produce power in cleaner, more flexible ways to meet customer demand. The transition to a cleaner energy future is well underway, here in Indiana and across the nation.
We're committed to delivering safe, reliable, affordable and clean energy to our customers. To do that, we are building a bridge to a clean energy future by using a balanced energy mix.
This approach integrates clean and renewable resources, like solar, wind, and hydropower, which are constantly replenished, with traditional energy sources, like coal and natural gas, that help us deliver affordable and reliable power 24 hours a day, 7 days a week.
By the year 2030, Duke Energy has committed to reducing our carbon dioxide emissions by 40 percent from 2005 levels across our six-state service area which includes portions of the Carolinas, Florida, Ohio, Kentucky and Indiana. Since 2005, we have already reduced our carbon dioxide emissions by 29 percent. We will continue our trend of retiring our older coal-fired generating stations and replacing them with cleaner, state-of-the-art natural gas-fired units, as well as adding more renewable energy sources to our diversified energy mix.
The future of energy is changing, and we're changing with it. In Indiana, we're investing around $1.4 billion over the next seven years to enhance our systems to provide the reliability our customers expect.
These investments will give us the ability to re-route power and accelerate restorations through new grid technologies. We will improve the grid's resilience against cyberattacks and physical threats through enhanced system intelligence programs. We will invest in smart meters, communications technologies and upgraded systems to improve outage detection and better manage new grid devices.
We are also working hand-in-hand with the Battery Innovation Center, located here at Crane, to find efficient and cost-effective ways to store large amounts of electric energy on a commercial scale, making it easier to integrate renewable energy into our grid operations.
All of this, and more, is concrete evidence of Duke Energy's commitment to sustainability. In 2016, for the 11th consecutive year, Duke Energy was named to the Dow Jones Sustainability Index for North America. Our company was also named Organization of the Year in 2016 by the Electric Utility Industry Sustainable Supply Chain Alliance.
It's clear that Duke Energy and the Department of the Navy share many of the same philosophies and goals about doing business in a responsible and sustainable way. We will look for more opportunities that make sense to partner with our friends here at Crane and other military installations in Indiana to expand and improve the energy security for our nation.
Thank you.
---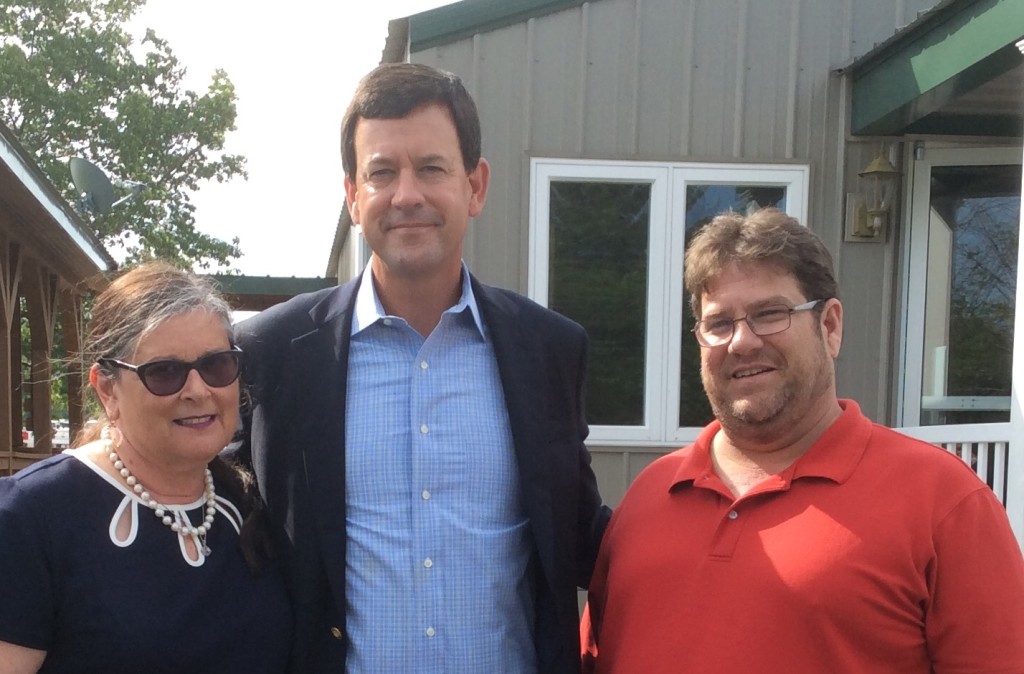 Attending he Ribbon-cutting ceremony pictured left to right: Laura Ann Arnold, President of Indiana Distributed Energy Alliance (IndianaDG); Stan Pinegar, Vice President of Duke Energy Indiana; and Kerwin Olson, Executive Director of Citizens Action Coalition (CAC).