From left, Brian Baker, Electric Plus; Tatsuo Doko, president and CEO of Toshiba International Corp.; Ryuji Maruyama, general manager of Toshiba's Smart Community Division; Sass Peress, CEO of Renewz sustainable solutions; Paul Mitchell, president and CEO of Energy Systems Network; Congresswoman Susan Brooks; George Caraghiaur, Simon Property Group's senior vice president of Sustainability; Roger Keller, Tom Wood Automotive Group COO; David Mohler, Duke Energy's senior vice president and CTO; Doug Esamann, president of Duke Energy
See http://currentincarmel.com/simon-unveils-clay-terrace-plug-in-ecosystem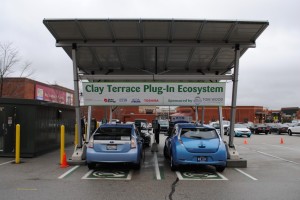 The charging stations are located north of Dick's Sporting Goods, 14350 Clay Terrace Blvd., in Clay Terrace.
Diversified industrial manufacturer Eaton today announced it has collaborated with renewz sustainable solutions inc., of Montreal, Canada, to install its first Integrated Power Solution (IPS) solar carport in the United States, at the Simon Property Group Clay Terrace Mall, in Carmel, Ind. The solar powered, electric vehicle (EV) charging carport is designed to provide enough renewable energy to power an EV fleet for 25 years and reduce greenhouse gas emissions by more than 230 tons.
"Eaton is committed to developing integrated solutions that deliver power in a more efficient and sustainable manner," said Joanne Edwards, vice president and general manager, Residential Division, Eaton. "The collaborative solution the Simon Property Group is implementing will fuel EVs using clean solar power, which will help control costs and reduce carbon footprint, and serve as a highly-visible green business representation."
The isola™ solar 10 kilowatt (kW) solar carport project was managed and developed by renewz, and features Eaton's Quick Charging EV charging stations, which are designed to charge an EV's battery to 80 percent capacity in 15 to 30 minutes, and an Eaton power distribution solution that enables the complete system to be integrated into one structure. The modular system also includes structural equipment from Giulio Barbieri S.p.A. of Italy, a lithium battery system from Toshiba International and solar photovoltaic (PV) panels from Motech Americas. The system is waterproof, as well as wind, snow and seismic code compliant.
"The unique combination of Eaton's robust electrical equipment with the anodized-aluminum structure we commissioned for this project is a clear example of the opportunity America has to evolve its transportation and electrical infrastructures 'from road to roof®' with sustainable and clean solar power", said Sass Peress, chief executive officer, renewz.
The system was sponsored by Duke Energy and Tom Wood Nissan, in Indiana. An inaugural event commencing the operation of the carport was held on January 30, 2013, and attended by Indiana U.S. Congressional Representative Susan Brooks.
renewz sustainable solutions, Inc. develops and delivers unique solar carport projects based on careful matching of design, brand and financial requirements of its clients. Through the delivery of recognizable, easy-to-implement, and effective solutions, we help clients discover ways to increase their environmental stewardship...from road to roof®. For more information, visit www.renewz.com, www.facebook.com/Renewz or www.youtube.com/renewzsolutions.
Eaton is a diversified power management company providing energy-efficient solutions that help our customers effectively manage electrical, hydraulic and mechanical power. With 2012 sales of $16.3 billion, Eaton is a global technology leader in electrical products, systems and services for power quality, distribution and control, power transmission, lighting and wiring products; hydraulics components, systems and services for industrial and mobile equipment; aerospace fuel, hydraulics and pneumatic systems for commercial and military use; and truck and automotive drivetrain and powertrain systems for performance, fuel economy and safety. Eaton acquired Cooper Industries plc in 2012. Eaton has approximately 103,000 employees and sells products to customers in more than 175 countries. For more information, visit www.eaton.com or contact Mark Horner
(412) 893-3590.