Mike Straeter of Ag Technologies Inc. explains how to use SolarCAM, invented by his father, Jim Straeter. "It's easy to loosen this up without getting wrenches out or anything." Mike said. The panels can be raised or lowered with a crank system.
Gov. subsidy will start declining at end of 2019
Rochester inventor Jim Straeter has his eyes set on improving the solar industry's energy efficiency and economic value.
At a young age, he kindled a passion for two things: farm equipment and renewable energy.
"My dad was a farm equipment dealer," Straeter said. "He was always interested in better farming practices, so that's probably where it started."
Straeter now owns seven New Holland Agriculture dealerships in north-central Indiana. He started Ag Technologies Inc. in 2012, which specializes in farm equipment technology. Ag Technologies introduced SolarCAM, a patented system that enables solar panels to adjust positions easily according to seasons for better sun access.
When Straeter tested the product with his customers, the results blew him away.
"We're having an excellent year with solar," he said. "The size of our installments has continued to increase over the five years we've been at it.
At first, Ag Technologies installed 32 to 64 solar panels per customer. Straeter said that number now reaches up to 4,000 for his largest customers.
The company started out with two customers, whose combined systems totaled 25 kilowatts of energy production. Five years later, Straeter's company has 124 customers and is on track to hit 3,000 kilowatt hours in 2017. And the orders are still coming in.
Why solar?
"It's the only renewable energy technology that pays for itself," Straeter said. "The energy you use is going to be priced by someone else, and there's nothing you can do about that."
Investors in solar can benefit from net metering, which calculates the amount of money that can be credited back to a consumer's electric bill for the extra energy they produce on the grid.
Solar power is subsidized by the U.S. government with a 30 percent investment tax credit that will start declining at the end of 2019. But, according to Straeter, solar is viable enough that it can easily survive without that tax credit.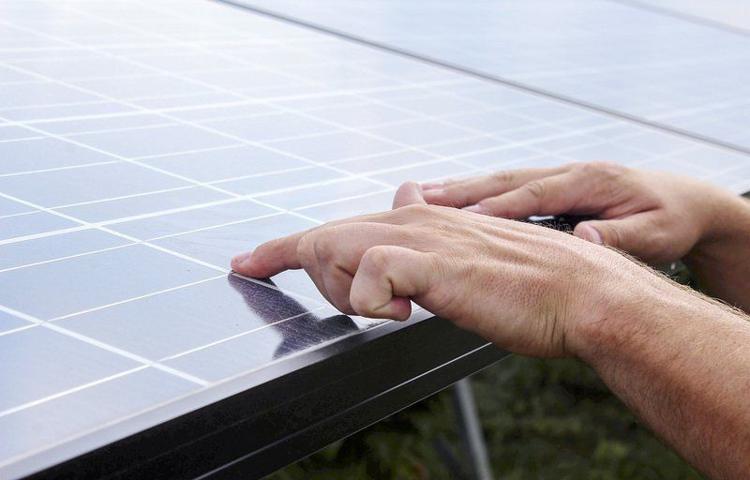 "So you can imagine," he added, "that right now it's really a good deal."
That's what convinced Stan Musgrave, 75, to invest in solar power for his Rochester home almost four years ago.
"The first three years are really great on the taxes," Musgrave said. "Economically, I think it makes sense in the long run."
His unit of 64 solar panels cost $47,000. Musgrave said it would take him just 12 years to pay it off. The benefits, he said, have already started to show.
"I have almost a total electric house," Musgrave said. "We have an electric bill probably December through March. The rest of the time is billing with credit."
Like Musgrave, many solar investors benefit from net metering,
"It's pure economics," Straeter said. "They can put it in and get their money back in seven or eight years. The system is warranted for 25 years and will probably last 40. That's 22 years of free electricity."
Renewables come at a cost
Though Straeter has seen increased interest in solar from his customers, overall renewable energy usage is still relatively low.
In 2016, 15 percent of electricity generated in the U.S. came from renewables; the rest consisted of traditional fossil fuels. The U.S. Energy Information Administration found that less than one percent of that total was solar generated.
Indiana's solar output contributes even less, at 0.2 percent of all energy produced in 2015.
"I think solar growth is substantial enough to say that the general trend is positive, but it's a small fish in a very big pond," Straeter observed. "What has to happen is policy change in order to achieve substantial growth. Unfortunately, in Indiana it's going the other direction."
The governor signed a controversial solar bill into law this year that will reduce the amount of money credited back to solar investors for extra energy generated. Hoosiers who currently use net metering will be grandfathered in for 30 years. Those who install solar units in the next five years will be grandfathered at a full retail price until 2032.
Solar generators now receive from 11 to 13 cents per kilowatt-hour for extra energy they produce. After 2022, that will fall to roughly 4 cents.
Another concern, Straeter said, is that the renewable energy industry sometimes over-promises what its equipment can do.
"Don't believe the computer models or the brochure or anything. Make sure you look at an actual system that's doing what the vendor said it's supposed to do," he warned. "And if they can't take you to a system that's doing exactly what they say it's supposed to do, then run."
To prove his company is legitimate, Straeter installed a solar unit at the New Holland Rochester dealership so he can personally show customers how it works.
Straeter isn't worried about the challenges facing the renewable energy industry. He plans to keep doing business as usual.
"With the tilting stand that we've patented, the efficiency is better than any fixture out there," he said of his company's solar panels. "I think we're going to be fine."
Contact Katie Stancombe at 765-648-4258 or at katie.stancombe@indianamediagroup.com.
Stan Musgrave of Rochester surveys his solar panel system, which was installed almost four years ago. He said he is already enjoying a return on his investment.