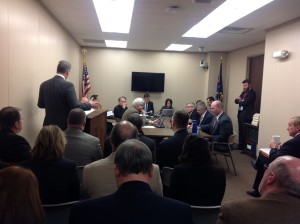 Rep. Steven Braun is standing at the lectern just left of the American flag in this photo taken in Room 156-A of the State House.
The Indiana House Utilities and Energy Committee met on 1/27/14 to hear testimony on HB 1162 concerning competitive procurement for  utilities introduced by Rep.  Steven Braun (R-Zionsville). The bill was amended in committee which substantially "watered down" the impact of the bill.
Those testifying in support of the amended version of HB 1162 included:
Vince Griffin with the Indiana Chamber of Commerce and

Ed Sicox representing the Indiana Energy Association (IEA).
The IEA was the rumored author of the watered down amendment.
Those testifying against the amended version of HB 1162 and expressing considerable doubt that the amended version of the bill would really do anything included:
Jason Minalga, Manager of Regulatory Affairs for Invenergy LLC;

Mark Volpe, Senior Director of Regulatory Affairs for Dynergy Inc.;
Sean Brady with Wind on the Wire;
Laura Ann Arnold with Indiana Distributed Energy Alliance;
Jennifer Terry with Indiana Industrial Energy Consumers (INDIEC);
Kerwin Olson with Citizens Action Coalition (CAC); and
Jodi Perra with the Hoosier Chapter of the Sierra Club.
Click here for a copy of the amended HB 1162 >
 http://iga.in.gov/static-documents/f/e/6/5/fe6504c5/HB1162.02.COMH.pdf 
Click here for a copy of the introduced version of HB 1162 >
http://iga.in.gov/static-documents/c/9/7/1/c9711697/HB1162.01.INTR.pdf
HB 1162 received a DO PASS Amended vote of 7 to 2 with Rep. Kreg Battles (D-Vincennes) and Rep. Matt Pierce (D-Bloomington) voting NO.
HB 1162 now awaits further action by the full Indiana House of Representatives.