IndianaDG and OUCC File Testimony
Urging IURC  to Deny I&M EDG Tariff to Replace Net Metering
Yesterday (7/13/2021) IndianaDG and the Office of Utility Consumer Counselor (OUCC) filed testimony in the Indiana Michigan Power (I&M) in the Cause No. 45506  urging that the Indiana Utility Regulatory Commission (IURC) deny the company's proposed Excess Distributed Generation (EDG) tariff to replace net metering.
The I&M proposed EDG tariff was filed on 3/1/2021 pursuant to SEA 309 (2017) which requires electric investor owned utilities (IOUs) in Indiana to phase-out net metering by 6/30/2022 and replace it with new rates for customer owned distributed generation such as roof-top solar.
IndianaDG filed expert testimony as follows:
Benjamin Inskeep, Principal Energy Policy Analyst, EQ Research LLC, Cary, NC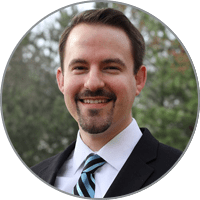 Benjamin Inskeep: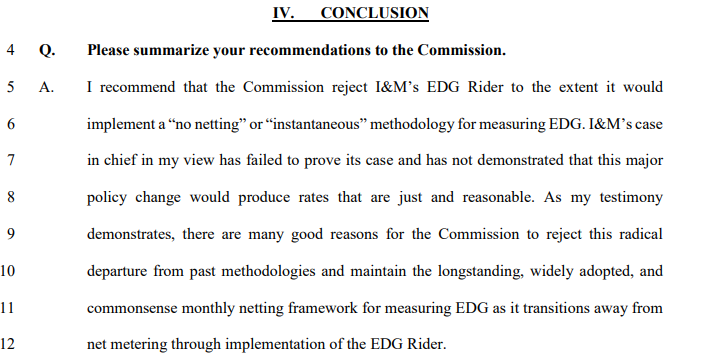 45506--IndianaDG Exhibit 1 Testimony--7-13-21FINAL 71 pages
45506--IndianaDG Exhibit 1 Attachments--7-13-21FINAL 156 pages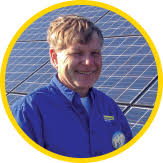 Jim Straeter:
Q. What would be the impact of I&M's current EDG proposal on your company  and other Indiana solar installation companies?
A. It will be very detrimental to our business. My company alone currently employs  13 people, and we hope to hire more. We also engage many subcontract workers.  I&M's proposal could force us to lay off workers and possibly no longer install solar energy systems in I&M's service area. Instead of focusing on investing our  time and resources in Indiana, we and other Indiana solar companies would have to shift focus to neighboring states that treat solar installations reasonably, rather than  punishing solar participants. For example, not far from us in Michigan, new  residential DG customers receive substantially higher export credits. Ironically, the credit rate for I&M's Michigan new customers' exports is $0.10024/kWh, about  four times as much as I&M's proposed compensation rate right across the state line  in Indiana. Similarly, Consumers Energy new residential customers' credit is  $0.119655/kWh for summer on-peak, $0.080485/kWh for summer off-peak, and  $0.084785/kWh for all exports in non-summer months. If after July 1, 2022, the  Indiana regulatory framework for EDG will be like that proposed by I&M, we will  likely shift our business focus out of Indiana. We will cut our Indiana work force  and replace them with out of state workers.  Other Indiana solar installation companies will suffer the same financial harm from  EDG proposals like I&M's and will logically shift their solar business focus,  employment opportunities, and financial stimulus to neighboring states that treat  solar customers reasonably.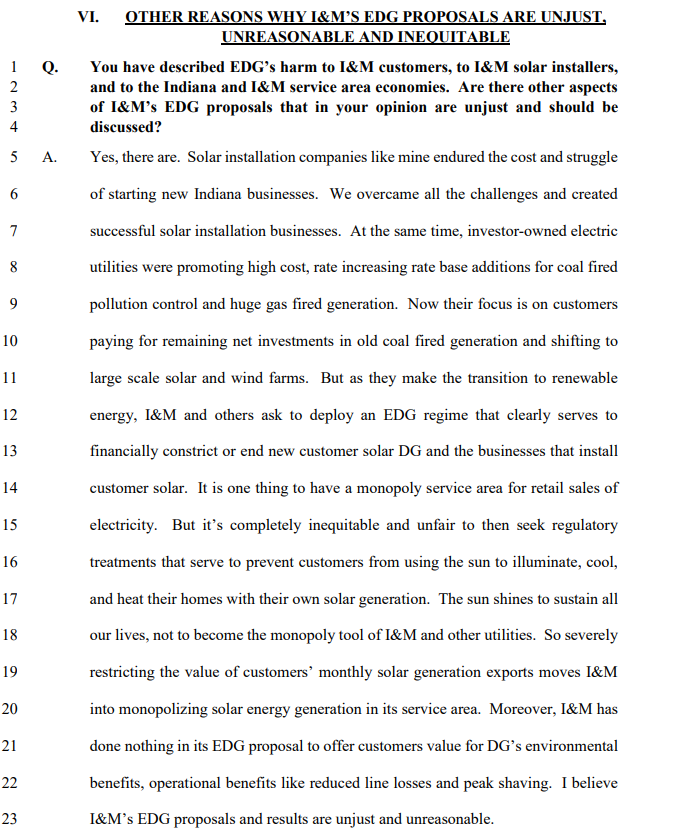 45506--IndianaDG Exhibit 2--7-13-21FINALv3 11 pages
John Haselden, Senior Utility Analyst, Electric Division, OUCC, Indianapolis, IN

John Haselden: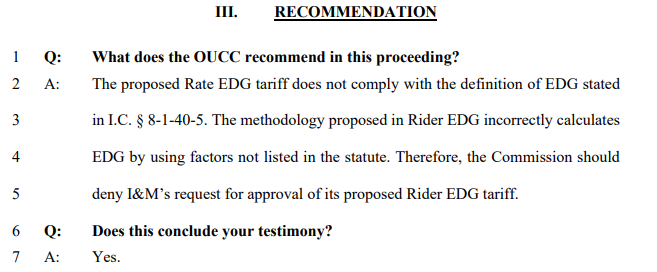 45506 OUCC Testimony of John E Haselden_07132021
Robert Glennon, attorney for IndianaDG, also points out that IndianaDG, the OUCC and others are appealing the IURC decision in the CenterPoint/Vectren EDG case.
---
Laura Ann Arnold, President, IndianaDG: "We urge everyone concerned about net metering, the future of the customer-owned solar industry as well as climate change to read and share this information including with your state legislators."