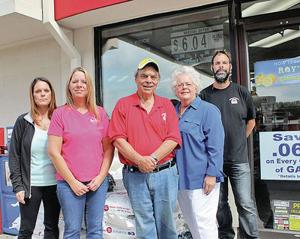 The Hometown Marathon gas station and convenience store is owned by the Stephens family, including from left, Tracy Wright, Stephanie Stephens, Steve Stephens, Linda Stephens and Brian Stephens.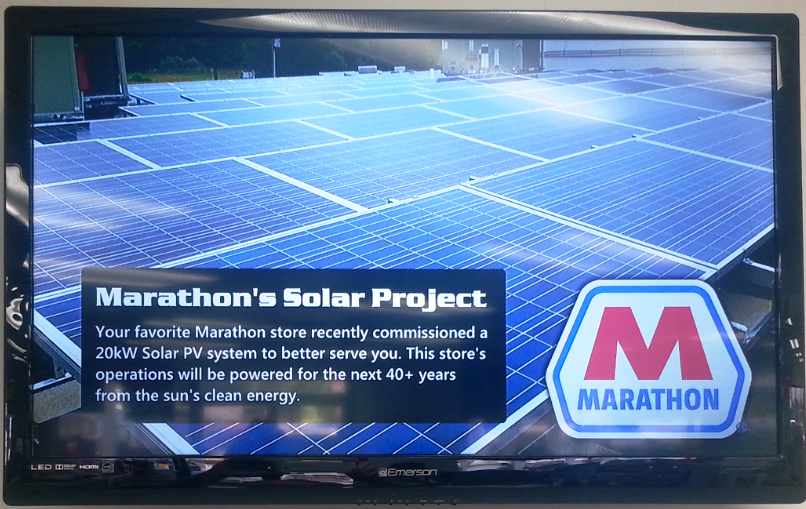 Gas station installs renewable energy system
Posted: Saturday, August 29, 2015 11:00 pm
KENDALLVILLE — The irony isn't lost on Steve Stephens that the most recent investment in his business — a solar energy system capable of generating 20 kilowatts of power — is being used to, in part, pump gasoline into customers' cars.
In fact, he's one of the first to acknowledge it.
But business is business, and costs are costs. The more you can do to cut down on your costs, the more you increase the odds of your business being successful.
That's why in recent months the Stephens family-owned Hometown Marathon gas station and convenience store, 830 W. North St., has invested in energy-efficient heating and cooling systems, and new LED lighting.
And now it has 81 solar panels occupying most of its roof.
"There are certain things in business that are called 'controlled expenses,'" Steve Stephens said. "If we can control some of our utility expenses by doing certain things, we're always going to do that."
Stephens said he got the idea for installing a solar energy system after reading a news story about a Steuben County pottery business that was using solar energy primarily to power its kilns.
So he called Eric Hesher, owner of Renewable Energy Systems LLC in Avilla and a fellow Green Township resident. It was Hesher's company that installed the solar energy system at the Steuben County pottery business, and it has worked on a number of other renewable energy projects in northeast Indiana, including a planned solar carport at the University of Saint Francis in Fort Wayne.
"This is our first gas station," Hesher said of the Hometown Marathon project during a recent event marking the start of the system producing power. "We're hoping there's going to be more. Steve's kind of leading the path through the woods on this."
It took about four weeks for Renewable Energy Systems to design the project and another four weeks to install it. The 81 solar panels on the roof — each of which can generate 250 watts — are tilted 15 degrees to best capture sunlight, and to prevent accumulation of rain and snow.
The panels sit in brackets and are raised 10 inches above the roof.
"That's the beauty of these. There's really no maintenance to them," Hesher said of the solar panels.
The panels are tied to an energy converter, and a display installed inside the convenience store allows staff and customers to see how much energy is being produced. The system also can be monitored via a smartphone app.
Hesher said the solar energy system installed at Hometown Marathon typically will cover a little more than half of the business' daily energy needs. On cooler days, however, when the business' energy use is much less, the system could potentially provide all the power to the business.
At its peak, if all conditions are perfect, the panels can produce a total of 20 kilowatts. Hesher said on a normal day, they'll generate 15 to 16 kilowatts. Any excess energy generated is sold back to Indiana Michigan Power.
The roughly $70,000 solar energy system is designed to last about 30 years, and it should pay for itself in less than five years through lower utility costs.
Since it's a renewable energy project, the system installed at Hometown Marathon qualifies for a 30 percent federal tax credit, and it received a grant covering 25 percent of the installation cost through a U.S. Department of Agriculture Rural Development program.
"We can provide grant funding for any rural small businesses, rural producers, that are looking to do renewable energy projects," said Anthony Kirkland, business program director for northern Indiana at the USDA Rural Development office in Columbia City.
The grant, the tax credit, the cost savings — it all adds up for Stephens.
He said of the business: "You miss 100 percent of the shots you don't take. We take a lot of shots. We think this is a hit."
Stephens also said he hopes the project raises awareness of the potential of renewable energy — and the display inside Hometown Marathon showing how much energy is being produced by the solar panels could help generate some discussions with customers.
"I think we're going to see people come in here who have a little bit of an (interest in) solar," he said.
---