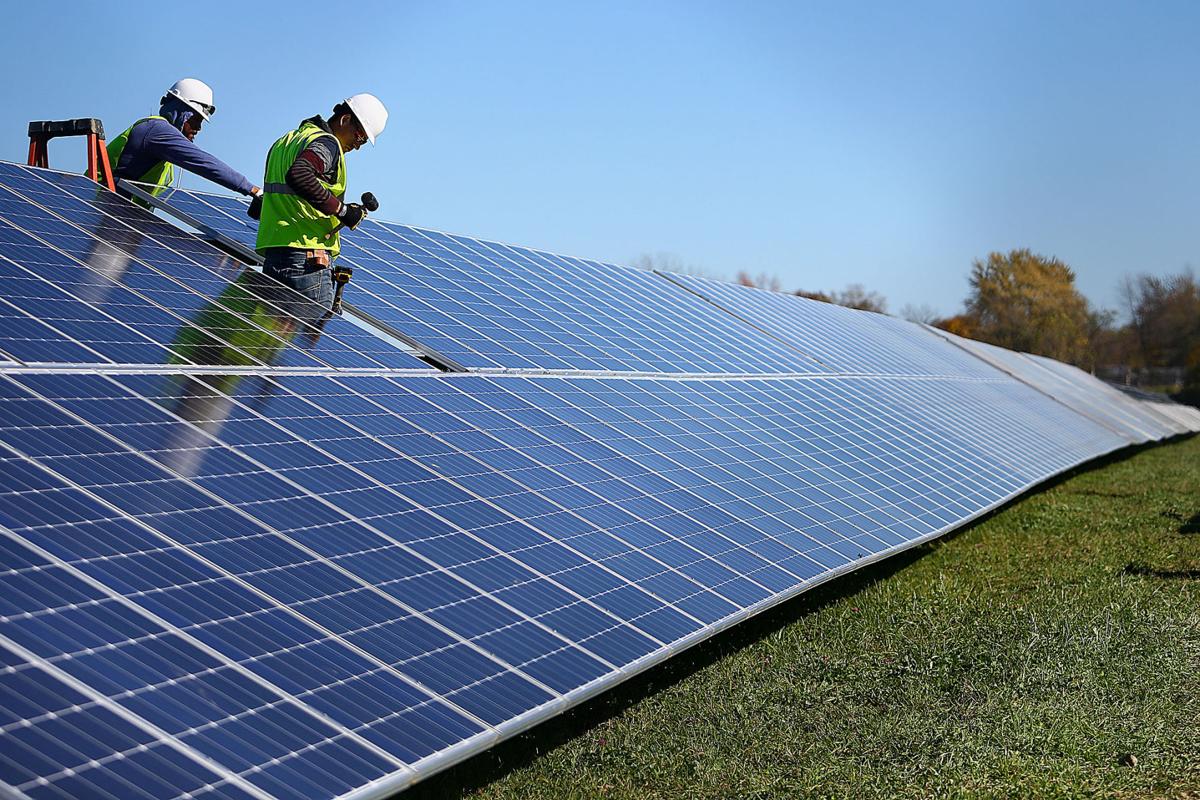 KOKOMO - The finish line is in sight for Kokomo's new solar park.
The park, located at the former Continental Steel plant site, is likely to be operational in the first part of next month and will include 21,000 solar panels producing 7 megawatts of energy, according to Austin Williams, an Inovateus Solar senior account executive.
The solar park is being developed by Inovateus Solar, a solar-integration company based in South Bend that has developed solar-energy facilities in 26 states.
In an interview Monday, Williams said the park, which will encompass roughly 26 acres at 1201 W. Markland Ave., is expected to begin producing energy in December to be sent to Duke Energy.
The Indiana Utility Regulatory Commission approved a 20-year purchased-power agreement last August between Inovateus Solar and Duke, which will buy the electricity and distribute it on the grid. Overall, the usage lines up between 500 to 1,000 homes, noted Williams.
"All the energy just goes directly to Duke's distribution system," he explained.
Duke Energy Indiana's operations provide about 7,500 megawatts of owned electric capacity to approximately 810,000 customers in a 23,000-square-mile service area, making it the state's largest electric supplier, according to a Duke press release.
From now until next month, Williams said various panels need to be placed and that electrical work, including wiring, needs to be completed in parts of the park.
After completion, Williams said the park will mostly operate on its own, requiring Inovateus employees to visit for observation and maintenance only a couple times each year. Instead, Inovateus will mostly stay in tune with the park through remote monitoring, he noted.
Following the Kokomo Plan Commission's approval of the park in June, Williams explained Inovateus' decision to build in Kokomo.
"We looked for areas where there was plenty of power draw, plenty of power load, and energy infrastructure," he said. "With Kokomo as a high industrial area, that was top of the list to start checking out.
"When we started finding these brownfield sites it really made a lot of sense, and then the city got really excited because they've been vacant for a while. Kokomo is a good choice because it's really got the population we need and the energy infrastructure," he added later.
Formerly, the Continental Steel site was listed on the Environmental Protection Agency's list of most dangerous sites because of the high levels of toxic pollutants in the soil.
Continental Steel went bankrupt in 1986, and studies revealed the 183-acre property was contaminated with solvents, PCBs and lead. The Indiana Department of Environmental Management and the EPA spent more than $40 million to clean up the site.
City Engineer Carey Stranahan said in a previous interview Kokomo is on board with the new facility, which will revitalize a piece of property that has been vacant for decades.
The city and Inovateus recently finalized a 20-year lease for the property.
"The reason we were interested in turning this property into a renewable energy opportunity is because we can reuse property that previously compromised the environment," he said. "Solar energy has a very low impact on the environment, which was attractive to us.
"This also reduces maintenance by the city. We will be receiving revenue, but we will not have to invest too many resources," he said.