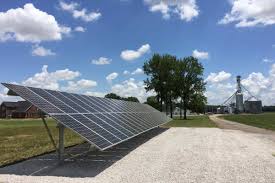 KYSEIA The Kentucky Solar Industries Association
FOR IMMEDIATE RELEASE     Aug. 26, 2019                        
MEDIA CONTACT:
Carla Blanton
carlablantonconsulting@gmail.com
 859-608-4850                                        
Kentucky solar industry urges customers, advocates to submit comments to PSC on net metering
FRANKFORT – The Kentucky Solar Industries Association (KYSEIA) today urged solar customers and advocates to submit comments on net metering to the Kentucky Public Service Commission (KYPSC).
With the passage of Senate Bill 100 during the 2019 legislative session, new solar customers are no longer guaranteed a one-to-one credit for excess solar power generation they send back to the grid – a process called net metering. The law directs the Public Service Commission to decide how much credit these solar customers receive for their power. That amount can change with each new rate case.
The KYPSC put out a request for written comments, which are due Sept. 20, and scheduled a public hearing on Oct. 1 as it determines how SB 100 should be implemented.
Comments can be emailed to psc.info@ky.gov. All emails should have case number 2019-00256 in the subject line and the customer's full name and home address in the body of the email.  
"Senate Bill 100 creates new red tape for Kentucky homeowners and businesses seeking to use solar energy," said Matt Partymiller, president of the association and co-owner of Solar Energy Solutions, which is based in Lexington. "This next step in the process is the best way to mitigate the negative impact of the new law. We urge people to contact the PSC to make their voices heard.
"The PSC still has the opportunity to support the small businesses, homeowners, farmers and churches who want to choose solar power. It can accomplish this through setting a fair rate based on the true value of solar energy. The PSC also should allow a solar representative to intervene in future rate cases. The large monopoly utilities shouldn't be the only industry voice represented at those hearings."
Partymiller added the smaller-scale solar projects that use net metering are done mostly by small, locally owned and operated businesses.
"Onerous regulations and unfair rates for future net metering customers not only threatens Kentuckians' ability to choose how they get their power, it also hurts solar industry jobs, which are the fastest growing occupation in the United States," he said.
###
 The Kentucky Solar Industries Association represents businesses involved in the nation's leader in new power generation -- the solar industry. KYSEIA's objective is to provide leadership and promote sound policy in the Commonwealth as our power sector enters the solar-age. KYSEIA understands that free market policies pursued over the past two decades are revolutionizing the nation's power grid and creating more affordable energy. KYSEIA wants to ensure lower cost energy is available for all and ensure that all can participate in the benefits of solar growth in the Commonwealth.
Formed in 2017, KYSEIA members coalesced to ensure private citizens had continued access to Kentucky's electric grid via Kentucky's net-metering statute. KYSEIA unites businesses across the solar vertical including the contractors responsible for building solar arrays, the developers creating new power plants, the manufacturers crafting innovative products, and the many businesses that support the industry.
---
KYPSC Order available at
https://psc.ky.gov/pscscf/2019%20Cases/2019-00256//20190730_PSC_ORDER.pdf
Case at:
https://psc.ky.gov/PSC_WebNet/ViewCaseFilings.aspx?Case=2019-00256
Completed Legislative Action
Spectrum: Partisan Bill (Republican 2-0)
Status: Passed on March 26 2019 - 100% progression
Action: 2019-03-26 - signed by Governor (KY Acts ch. 101)
Text: 
Latest bill text (Engrossed) [PDF]
Summary
Amend KRS 278.465 to increase the maximum capacity for an eligible electric generating facility to 45 kilowatts and to redefine "net metering"; amend KRS 278.466 to require the Public Service Commission to set the compensation rate for eligible customer-generators according to the ratemaking process in KRS Chapter 278; specify that the ratemaking process to set the amount of compensation for electricity produced by eligible customer-generators be initiated by a retail electric supplier or generation and transmission cooperative on behalf of one or more retail electric suppliers; prohibit eligible customer-generators who close their net metering accounts from receiving any cash refund for accumulated excess generation credits; require the net metering tariff provisions for eligible customer-generators in place when they started taking net metering service to remain in effect for 25-years for eligible generating facilities, including the one-to-one kilowatt-hour denominated credit provided for electricity fed into the grid; specify that eligible customer-generators shall be subject to all changes in energy rates, rate structures, and monthly charges as nonparticipating customers during that 25 year period; specify that eligible customer-generator installations are transferable to other persons at the same premises; amend KRS 278.467 to conform; EFFECTIVE January 1, 2020.