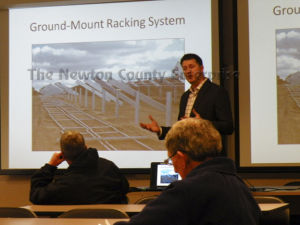 Explaining the system
Solar Project Manager Brad Wilson explains how the solar panels will be set up and what they will look like to the county's BZA and neighboring property owners of the proposed solar farm in Lake Village.
Posted: Tuesday, April 2, 2013 11:20 am
Updated: 11:28 am, Tue Apr 2, 2013.           
Lake Village to have first solar farm in NC
By CHERI GAYFIELD,  Managing Editor
NewsBug.info
BZA approves land variance for 3 acres of solar panels
MOROCCO, March 26 — The BZA approved a land variance for Lake Village Solar  LLC after listening to the proposed plan and to neighbors concerns Tuesday night at the Newton County Government Center in Morocco. A number of neighboring property owners were on hand to hear about the plan for a field of solar panels. The residents didn't really know what the hearing was about because they had received the wrong letter regarding the meeting. In the letter, there was no explanation about the proposed variance nor was there a meeting place listed. However, only one resident who received a letter was absent from the meeting, and one, the Archdiocese of Lafayette, did not sign for the certified letter at all.
With this in mind, BZA attorney Patrick Ryan said the decision to continue with the request by Lake Village Solar LLC was left up to its representative Brad Wilson, who is also the project manager for the solar farm. Ryan outlined the risks, saying a decision could be challenged within 30 days to the petitioner. Wilson and the BZA members agreed to continue the process since there were more than a majority of neighbors present for the discussion.
To read the rest of this newspaper article please see the following: