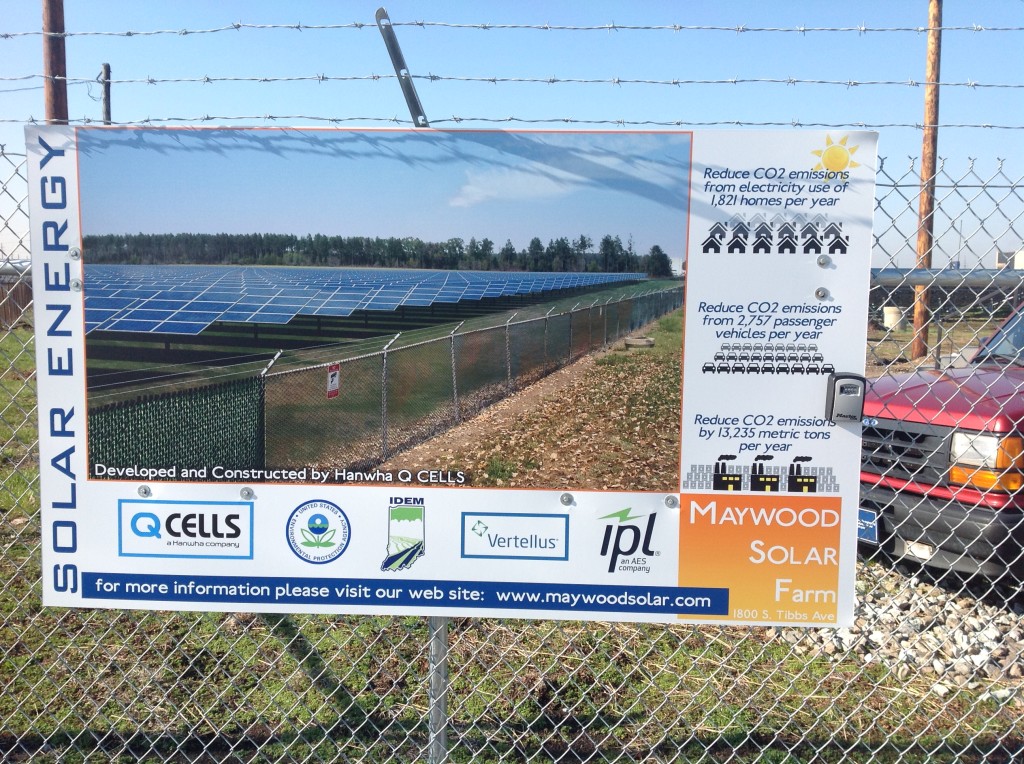 I recently received this message and wanted to share it with IndianaDG Readers. I attended the recent ribbon-cutting ceremony for this project.
I'm a contractor for EPA's Superfund Redevelopment Initiative and I wanted to let you know that SRI will be hosting a webinar about renewable energy projects on Superfund sites on April 29. A major portion of the webinar will consist of an in-depth discussion about development of the new Maywood Solar Farm, located on the Reilly Tar & Chemical Co. (Indianapolis Plant) Superfund site.
I wanted to let you know the webinar is coming up and also ask if it might be possible to share the webinar announcement in the upcoming events on your website?
http://www.epa.gov/superfund/programs/recycle/pdf/2014-apr-webinar
Please let me know if you have any questions..pdf
many thanks!
Sabrina
SUPERFUND AND RENEWABLE ENERGY:
PROMISING FUTURES FOR SITES WITH A
CONTAMINATED PAST
EPA has placed national priority on showcasing opportunities for the
development of clean and renewable energy projects on contaminated
lands. EPA's Superfund Redevelopment Initiative (SRI) supports the use of
renewable energy at Superfund sites and has actively provided site owners
and local communities with technical support and resources to explore
innovative reuse opportunities available at these sites. Highlighting SRI's
support activities as well as case studies from sites with solar projects in
place and generating electricity, this webinar will highlight how EPA worked
with site stakeholders and solar developers to design and enable renewable
energy project fully compatible with long-term protectiveness of a site. It will
also focus on the challenges and benefits found in developing a large solar
facility on formerly contaminated sites (e.g., landfills) and highlight the role
of these sites in supporting development and how local communities and
site owners can see economic and environmental impacts from renewable
energy development on current and formerly contaminated lands.
PRESENTERS:
Melissa Friedland, U.S. EPA Superfund Redevelopment Initiative
Frank Avvisato, U.S. EPA Superfund Redevelopment Initiative
Dion Novak, U.S.EPA, Region 5
Geoffrey Underwood, Hanwha Q Cells, Maywood Solar Farm
Matt McCullough, Hanwha Q Cells, Maywood Solar Farm
For additional information and to register, visit:
http://www.cluin.org/sri/
COST: FREE
FOR MORE INFORMATION, PLEASE CONTACT:
Melissa Friedland at friedland.melissa@epa.gov or (703) 603.8864,
Frank Avvisato at avvisato.frank@epa.gov or (703) 603.8949.
Superfund Redevelopment Initiative www.epa.gov/superfund/programs/recycle
WHEN: TUESDAY, APRIL 29, 2014
1:00PM TO 3:00PM (EDT)