Solar flare-up: Utility blocks Iowa firm from harnessing the sun in Milwaukee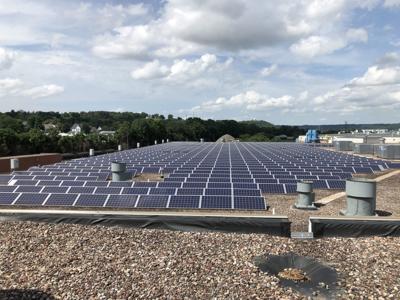 As solar energy has become more popular and cost-effective, this once fringe renewable source is now at the center of an energy turf war in Wisconsin.
At issue is a project in which an Iowa-based renewables company wants to partner with the city of Milwaukee to power seven municipal buildings with solar. Eagle Point Solar would help to finance the city's project, taking advantage of federal tax breaks that local governments do not qualify for.
Eagle Point is suing the public utility, We Energies, for refusing to connect a series of solar arrays to each other. We Energies says it is simply following the law. The utility claims Eagle Point would essentially be selling electricity to the city within We Energies' service area, which the utility argued would be illegal.
"Assuming it's safe, reliable and legal, we have no problem. It's just when it is not a legal agreement, we obviously can't connect that," We Energies spokesman Brendan Conway said.
Eagle Point also sued the Public Service Commission, which declined to take up its complaint against We Energies, also known as Wisconsin Electric Power Co., essentially ducking the bigger question of to what extent utilities in Wisconsin can control the provision of solar energy.
"This case is very important and is being watched in other states," said Brad Klein, a lawyer with the Environmental Law and Policy Center, a legal advocacy group that focuses on the Midwest. "The definition of 'public utility' is becoming more important as new technologies like solar emerge that allow customers and private businesses to assume roles that once could only be played by large monopoly utilities."