'Cost-shifting' and 'not paying your fair share' are not the same thing.
By
Jon Wellinghoff and James Tong
|
January 22, 2015
Editor's Note: The following is a guest post written by Jon Wellinghoff and James Tong. Wellinghoff is the former chairman of the Federal Energy Regulatory Commission and is currently a partner at law firm Stoel Rives LLP. Tong is the vice president of strategy and government affairs for Clean Power Finance, a financial services and software firm in the residential solar market. This article is the first in a series from Tong and Wellinghoff looking at issues surrounding utilities, distributed energy resources, and the grid. Tong and Wellinghoff's joint proposal to create an independent distribution system operator was covered in Utility Dive here.
Correction: A previous version of this post said a report by the California Public Utilities Commission (CPUC) found that net energy metering (NEM) customers in the state were paying 106% of the full cost of service. The report was, in fact, a draft. The final report found California NEM customers were paying 103% of the full cost of service.
Public discussion on net energy metering (NEM) has gone from heated to downright nasty. It started as an arcane and seemingly innocuous policy: solar customers get a one-for-one bill credit from their utility for each kWh they produce and send to the grid. NEM has become a full-blown wedge issue.
Critics assert NEM customers use the grid but do not pay their fair share of the costs. They say that NEM shifts grid costs to non-solar ratepayers, especially lower-income households and minorities. They invoke phrases such as "regressive tax", "reverse Robin Hood," or even "robbin' the hood," to suggest that solar customers – purportedly far wealthier and whiter – are getting a free ride at everyone else's expense.
"Nonsense," reply NEM advocates. "NEM critics don't care about ratepayer fairness – they care about protecting profits and monopolies for utilities that have never faced competition." They contend that, far from shifting costs, NEM customers create net value to the grid and all grid users. One only need look to a study commissioned by the neutral Nevada Public Utility Commission that shows NEM customers provide a net present value benefit of $36M to non-NEM customers in Nevada.
However, both arguments miss the point. That is because both use "cost-shifting" and "not paying the fair share" interchangeably. This understanding is wrong – critically wrong. And it is resulting in needlessly fractious debates and bad policies, including arbitrary fixed fees on solar customers.
A telling example: In 2013, the California Public Utilities Commission (CPUC) published a study that projected a cost shift of $1.1 billion per year by 2020 due to NEM policy. NEM critics, including the American Legislative Council (ALEC), Americans for Prosperity, and even some academics cited the study as proof that NEM customers were not paying their fair share. So they pushed harder for fixed fees for NEM customers, a policy that various states, including Wisconsin, Arizona, Kansas, and Oklahoma, have since either explored or enacted.
But critics (as well as NEM advocates) overlooked that the same CPUC report also found that NEM customers as a whole "appear to be paying slightly more than their full cost of service" – 103% of their costs, to be precise. In other words, NEM customers were not zeroing out their bills and "free-riding:" on average, they were paying more to utilities in fixed-cost recovery than non-NEM customers.
Why do so many policy wonks on both sides consistently conflate cost-shifting with not paying one's fair share? It could be that explaining these concepts is difficult and doesn't make for good sound bites. Or it could be that few people understand the arcane subject of utility rate design or are willing to admit that the prevailing utility regulatory model is highly redistributive to begin with.
According to the CPUC study, before going solar, all NEM customers (commercial and residential) had paid 133% of their full cost of service. The residential segment alone paid 154% of its cost. By going solar, NEM customers were mitigating or reversing the subsidies they had traditionally been paying to support the grid. This is the crux of what is called cost-shifting.
Cost-shifting should not be ignored. But the focus on NEM customers dangerously obscures more critical problems with the utility model, namely slowing demand, escalating costs, and disruptive innovations. In such an environment, any technology that reduces sales of electrons will challenge traditional practices of cross-subsidization.
For example, the energy economist Catherine Wolfram estimates that adoption of LED lighting may shift costs as much as the adoption of distributed solar.Does this mean we should condemn LED users for cheating the system, or charge them fixed fees? Or should we fix the system in which the mere adoption of LED lighting can hurt the poor?
Vulnerable customer segments should not bear more cost when others adoptdistributed energy resources (DERs), such as rooftop solar or efficiency technologies. But all customers – not just solar or DER customers – need to address the potential equity issues that new technologies, however promising, may raise.  The Regulatory Assistance Project's concept of a minimum bill – which utilities and solar advocates in Massachusetts had agreed to before getting stuck in the legislature – can ensure that all grid users pay their fair share. While imperfect (we advocate for more comprehensive reforms), the concept is more efficient and fairer than a sweeping fixed fee that singles out one technology with almost no regards of its benefits and costs to the grid.
The recent push for fixed fees is problematic for many reasons; for one, it does not rely on actual data or results, but rather on the faulty assumption that users of technologies that shift costs are necessarily not paying their fair share. This fallacy will handicap the deployment of all promising DERs, which, by virtue of being distributed, will necessarily create uneven benefits and costs. Even worse, it may ultimately harm those ratepayers that NEM critics are trying to protect.
Separate analyses from the Rocky Mountain Institute and Morgan Stanley show that grid defection will soon be economically viable, and that levying more fixed fees would accelerate defection.  Even if "mass defection" is unlikely, defection by a small group will probably have an outsized impact. Utilities rely disproportionately on heavy users, who tend to be more affluent and thus more economically capable of going off-grid. If these users do start defecting en masse, then we really will have an unprecedented problem of cost-shifting from the "haves" to the "have-nots" – but we can't blame the "haves" for not paying their fair share for a grid they aren't using.
Let us hope that we never have to face this calamity to finally understand the distinction between cost-shifting and not paying one's fair share.
The recent push for fixed charges may help utilities in the short run, but at a huge cost to all.
By James Tong and Jon Wellinghoff |
February 13, 2015
Editor's Note: The following is a guest post written by Jon Wellinghoff and James Tong. Wellinghoff is the former chairman of the Federal Energy Regulatory Commission and is currently a partner at law firm Stoel Rives LLP. Tong is the vice president of strategy and government affairs for Clean Power Finance, a financial services and software firm in the residential solar market. This article is the second in a series from Tong and Wellinghoff looking at issues surrounding utilities, distributed energy resources, and the grid. You can read the first piece on the common confusion over "cost-shifting" and "not paying your fair share" here.
"Failure is not an option!"
The line, popularized by Apollo 13, re-creates mission control's scramble to rescue a damaged spacecraft. Though fictional, this could easily be the real-life creed of utilities and regulators.
Consumers expect reasonably priced electric services 24-7. Utilities provide those services through billions of dollars in continual grid investments. The smallest error in maintenance or operation may result in catastrophic grid failure with severe financial and legal repercussions.
Naturally, local distribution utilities feel under-appreciated, if not indignant, when green advocates, tea party activists, and upstart businesses push hard for policies they believe may jeopardize the grid. This utility angst is compounded by declining revenues from waning demand growth and the emergence ofdisruptive innovations, such as smart thermostats and rooftop solar. Utilities want to slow down change, or at least ensure full recovery of their investments.
Cue the fixed charges
To this end, utilities have been pushing for more fixed charges. Some fixed charge increases simply augment existing "customer charges." Others are targeted primarily at consumers who choose to install rooftop solar PV systems.
Arguments for these charges tout basic economics and fairness. The basic economics argument contends that since most costs of electric services are fixed, customer fees should also be fixed. Utilities assert that using volumetric pricing, or charging per kilowatt-hour (kWh) consumed, to recover fixed infrastructure and operations costs creates utility risk. Risk raises utilities' cost of capital and ultimately prices for all customers.
The fairness argument takes aim at solar customers, contending that by significantly reducing the kWhs they consume, they avoid their fair share of the fixed cost. Fixed charges imposed on solar customers, it is assumed, would prevent an unfair shift of cost burdens to non-solar customers.
The reasoning for this shift to fixed charges may seem logical. Utilities are legally entitled to fair compensation for the service they provide. And customers connected to the grid should indeed pay to use it. Both assertions are indisputable. Yet neither proves the need for fixed charges – especially for solar customers.
As we argued in our previous piece, the assertion that solar customers do not pay their fair share is based on a flawed assumption that cost shifters are necessarily freeloaders.
The "economics" argument is equally wrong. As Severin Borenstein, a respected economist and a sharp critic of current solar policies, writes: "…the statement that I have heard a number of times recently that 'the utility should cover fixed costs with fixed charges' has no basis in economics when it comes to system fixed costs." [1] Borenstein accurately notes that fixed-cost recovery can be addressed through smarter, more efficient kWh volumetric pricing that accounts for all cost variations due to timing and location, as well as externalities such as carbon emissions.
[1] Economic principles do justify fixed charges for customer-specific fixed costs like metering and billing. But these are much smaller than system-wide fixed costs (generators, poles and wires) and not the focus of current fixed-fee discussions.
The promise of smarter pricing and distributed energy resources
What we must understand is that fixed charges actually steer us away fromsmarter pricing. They invite more inefficiency, not less, because they encourage customers to consume more and utilities to build more, not smarter.
Utilities have traditionally built enough capacity to ensure peak demand is always met, even during relatively rare moments when every single air conditioner is running at full throttle. But across the nation, peak usage is diverging from average usage (see the graph below). This means that increasingly, much of grid infrastructure is going unused at any given time. In other words, much of what is called "fixed costs" actually represents overcapacity, or waste. And that waste is growing.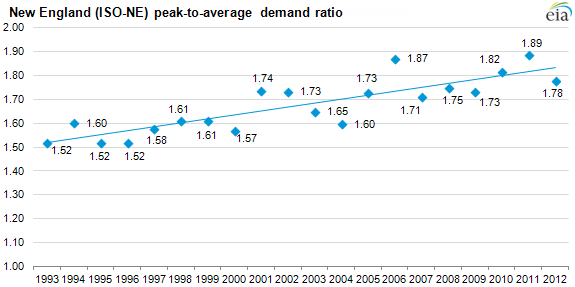 Expanding fixed fees does nothing to reduce such waste. In fact, it encourages the opposite. Instead of increasing fixed fees, we need to consider institutingdynamic or time-varying rates that align prices with how and when utilities incur costs. This would both strengthen historical fixed cost recovery mechanisms and reduce investment waste.
Public policy has long resisted time-varying rates for consumers, in large part because they are deemed too confusing for consumers. The expansion of rooftop solar, however, questions conventional wisdom. As Borenstein notes(albeit cynically), the rapid growth of rooftop solar in California is largely attributed to solar installers' success in explaining the state's incomprehensible rate structures to consumers. The California experience suggests that, given strong market incentives, third-party providers can effectively assist consumers in understanding sophisticated pricing structures and provide them appropriate options. The goal of policies then should be to develop market incentives consistent with a strong, reliable grid.
Myriad distributed energy resources (DER) offer consumers countless tools to better manage their consumption and reduce grid costs: intelligent communicating devices can enable greater demand response at peak times or automatically start or stop dishwashers and washing machines depending on the high and lows of daily energy prices (see below). Electric vehicles can interact with grid market signals to charge batteries when prices are low and supply grid services when the market allows. And distributed photovoltaic systems can sync with all of the above, deciding when to use generation internally, when to sell it to the market and when to store it locally.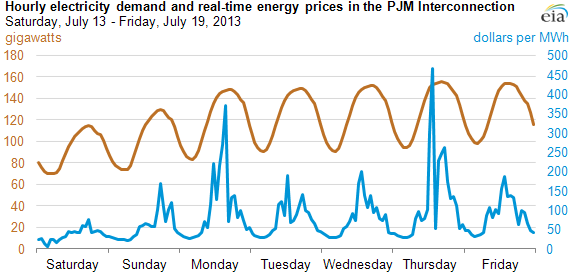 Many of these DER technologies are available today. Even more are on the way. All need better market structures to harness their full value. This does not mean we should create more subsidies or mandates, or levy fixed fees. It means we need a fair market structure and pricing mechanisms that more accurately capture the benefits and costs of the grid and all resources – including DER.
Destroying the promise of a more efficient grid
In the utilities' frenzy to realign their business model with a dynamically shifting consumer relationship to the grid, the push for more fixed charges charts a damagingly retroactive course. By minimizing volumetric pricing in favor of fixed charges, regulators eviscerate pricing signals, which encourage both efficient consumption behavior and cost-effective grid investments by distribution utilities, customers and entrepreneurs. Customers would lack clear signals to act more efficiently, adopt appropriate technologies or utilize DER to improve the grid for others. DER providers would, in turn, see little reward for innovating and delivering solutions to customers. More wasteful consumer consumption would lead to more wasteful investments by utilities.
We are not suggesting that fixed charges are inherently wrong. But they are wrong when they distort markets and create larger problems than the ones they were intended to cure. If the concern is ratepayer fairness, then consider aminimum bill. If the concern is protecting the underserved, consider programs that leverage DER to help them better manage their energy consumption and thus their bills. If the concern is efficient cost-recovery, consider time-varying rates or broader reforms, which we have suggested.
Current calls for more fixed charges completely ignore appropriate market structures as an option. In fact, they seek to undermine such structures. Uncritical approval by regulators of fixed-charge proposals without considering market options would imply a lack of appreciation of the power of markets and DER technologies. It suggests one of two things: either the promise of DER to empower consumers is secondary to a utility's financial happiness, or the traditional regulated monopoly can best match diverse disruptive technologies with increasingly diverse customer needs. The latter is highly unlikely: consider utilities' inability thus far to capture the promise of the 50 million smart meters already deployed. All of us – especially those who champion market principles – should be skeptical.
A call for regulatory courage
The traditional regulated electric utility model is on an unsustainable trajectory – some say a death spiral. Regulators at mission control will need to take creative and likely unconventional measures to guide it back to a safe landing. We commend commissions in New York, Hawaii, Massachusetts, California, and Minnesota for acknowledging the challenge and exploring ways to modernize the grid with DER. We applaud commissions in Idaho, Louisiana,Utah, and others for rejecting proposals for fixed charges on solar customers because of insufficient data. Failure is indeed not an option. A rash push for fixed charges dangerously flirts with failure, threatening not just the public, but the utilities' shareholders as well. We'll explain more on that point in our next post.
The push for fixed charges won't benefit shareholders in the end.
By James Tong and Jon Wellinghoff |
March 25, 2015
Editor's Note: The following is a guest post written by Jon Wellinghoff and James Tong. Wellinghoff is the former chairman of the Federal Energy Regulatory Commission and is currently a partner at law firm Stoel Rives LLP. Tong is the vice president of strategy and government affairs for Clean Power Finance, a financial services and software firm in the residential solar market.
Let's dispel a common myth: investor-owned utilities (IOUs) are not guaranteed any rate of return.
As Scott Hempling, a respected regulatory attorney and scholar, notes, regulation does not even "guarantee profit (except in very, very rare situations)." The Edison Electric Institute (EEI), the trade association representing investor-owned utilities, seems to agree: "…a utility should have a reasonable opportunity to earn its allowed rate of return if it operates efficiently." The key words are "opportunity" and "operates efficiently." There is no promise. And returns are contingent on performance. They must be earned — not given.
Media attention has focused on potential cost-shifting between solar and non-solar customers. Almost no attention is given to the potential of a much largercost-shift from utility shareholders to all ratepayers – solar and non-solar, rich and poor, black and white, old and young. Lately, we've been hearing, "How do we fairly divide fixed costs among different ratepayers?" Almost never do we hear, "To what extent should utilities bear the risk of insufficient cost-recovery?"
IOUs, their critics, and even some regulators often misunderstand or overlook that profit expectations are not iron-clad. We see this when critics claim utilities don't understand competition because they are guaranteed profits. More disturbingly, we see this in utilities' current push for fixed charges [1], which presupposes that utilities are entitled to full fixed-cost recovery. The popular meme that "fixed charges should cover fixed costs" implies that grid investments by utilities should be risk-free.
But utilities are paid to assume some level of investment risks. (For those less familiar with corporate finance, we suggest reading the basic primer here.) That's why shareholders, the owners of utilities, are given the opportunity toearn an authorized return on equity (ROE). That ROE reflects comparable returns of competitive players facing similar risks. Competitive players are not shielded from poor investment decisions and business risks; utilities shouldn't be either. This is not our opinion, but rather the opinion of the Supreme Court of the United States:
"The due process clause has been applied to prevent governmental destruction of existing economic values. It has not and cannot be applied to insure values or to restore values that have been lost by the operation of economic forces."[2]
The push for fixed charges seeks to redefine the risk-reward formula by reducing only the risk, and not the rewards. A utility's authorized ROE is a component of its fixed costs. Guaranteed fixed-cost recovery would mean guaranteed profits, and suggests that ratepayers must assume all of a utility's investment risks.
While more fixed charges can literally pay dividends to shareholders in the short run, they will very likely hurt them down the road. Offloading risks to ratepayers offloads both accountability and responsibility for investment risks. Less accountability can lead to a waste spiral. Less responsibility can spiral towards irrelevance.
[1] We are referring to fixed customer charges – fees that cannot not be avoided or reduced in any way – and not demand charges. All recent proposals for fixed charges seek higher customer charges, and only a few combined them with demand charges.
[2] Market Street Railway Co. v. Railroad Commission of California
From death spiral to waste spiral…
As with any other business, utilities' investment decisions are governed by risk-reward calculations. Risk-taking is rewarded by rates of return; the higher the risk, the greater the potential for returns. The possibility that companies (monopolies or competitive players) can lose money on investments serves as a check against wasteful investments.
Since IOUs grow their profit base by deploying capital, they have a natural bias towards making capital investments over actions that minimize total costs for customers. This is known as the Averch-Johnson effect. Using fixed charges to reduce utilities' risks without a comparable downward adjustment on the rate of return will lead to wasteful investments and higher costs. This waste, along with utilities' authorized returns on that waste, will get absorbed as fixed costs. The resulting higher fixed costs will invite calls for more fixed charges. Thus, we see the beginnings of a waste spiral. In fact, it may already be happening.
As we discussed separately, excess or wasted capacity in grid infrastructure is at unprecedented levels. A possible explanation is that IOUs may be receiving too high an authorized ROE. An independent analysis found that the "…cost of equity for electric utilities in today's capital market ranges from 8.5% to 9.5%, with a mid-point of 9.00%." However, IOUs are being awarded an average ROE of about 10%. Similarly, another analysis finds evidence indicating that decoupling in California, which has insulated IOUs from cost-recovery risk, has encouraged an IOU to consistently over-forecast demand to justify new distribution investments that probably aren't needed.
A waste spiral would be a boon to IOUs and their shareholders in the short-term. But it also would represent a house of cards. More wasteful investments increase the risk of stranded assets (i.e., investments that are sunk and no longer useful, but still need to be paid for); these risks are already high givencurrent excess capacity, increasing deployment of distributed energy resources(DER), advances in energy efficiency technology, and growing calls for reduction in carbon emissions. At some point, the cards will collapse. [3]
A similar story has already played out with California's botched "deregulation." The energy economists Severin Borenstein and James Bushnellfound that "the motivations for restructuring were driven more by a desire by some groups to avoid paying for stranded assets (like nuclear and coal plants which looked like white elephants in the late 1990s) than by a belief that restructuring would reap massive efficiency gains."
Not fully respecting market principles, policymakers designed retail electric rates to ensure recovery of stranded costs and spread those costs among ratepayers in a way that would minimize complaints. Ultimately, the plan backfired. The flawed market structure led to rolling blackouts, and cost residents in California and Nevada a total of over $40 billion. The IOUs did not escape harm: PG&E declared bankruptcy; SCE narrowly escaped it; andSDG&E and Nevada Power both lost over $400M in unrecovered power cost and share prices of the latter tumbled by 70%.
Borenstein and Bushnell warned in a working paper published last year that current trends in utility regulation are following a similar path.
[3] We do not suggest that all investments would be wasteful. Two areas where distribution utilities are making significant investments are in "smart grid" upgrades and in infrastructure to enhance cyber and physical security. Nevertheless, measurable benefits and strong cost controls are still essential.
…or the spiral of irrelevance
To avert the waste spiral, regulators and the public may force a different route. Instead of accepting more fixed charges, they may ask: "Why are we rewarding utilities with such a high ROE?"
Following that line of reasoning, the question becomes, "If utilities want to avoid responsibility for investment risk, why not make their authorized ROE equal to their cost of debt?" At which point, people may even ask, "Why have IOUs at all?"
All things being equal, government ownership of the distribution grid would reduce customer cost by being able to leverage tax-exempt financing and eliminate the need for authorized ROEs and income taxes on profits. Let us be perfectly clear: we do not recommend this course of action. But shifting risks to ratepayers through more fixed charges will likely invite these uncomfortable, albeit reasonable, questions.
In fact, people are already asking the questions. A recent survey by UBS sees "ROE risk as back on the table for rate cases." Additionally, cities across the country have shown increasing interest in taking control from IOUs and "municipalizing" their utility. As the New York Times writes, "municipal utilities over all offer cheaper residential electricity than private ones."
Others are looking to implement community choice aggregation (CCA), whereby local or regional jurisdictions assume responsibility of buying and selling power, but, unlike municipalization, leave grid operation, maintenance, and billing to IOUs. Six states have already adopted CCA, and New York is looking to be the seventh.
Increasing fixed charges can encourage grid defection, where customers use distributed generation and storage to withdraw from the grid entirely. [4]Others discount the risks, insisting that sufficient storage will remain cost-prohibitive for the foreseeable future. However, both sides miss a critical point: customers will defect not just to lower costs, but to also achieve greater value. In this regard, both misunderstand the risks of defection and how it has already begun.
Municipalization is a form of grid defection – as is CCA. A large motivation for both movements is to provide constituents cheaper energy or more local control (e.g., the ability to choose cleaner energy) or both. Big tech companies are also defecting from the grid. Microsoft's new data center in Wyomingnever "cut the cord" with the grid – it never even had a cord to begin with. Similarly, Facebook built its data center in Sweden, where its specific energy needs can best be met.
One way or another, the general trend of shifting risks to ratepayers will end. How shareholders will fare is up to the managers of utilities.
[4] Grid defection has in fact occurred in some instances in Hawaii, but mostly as a result of high volumetric charges.
What next?
That IOUs seek to maximize returns at minimal risks for their shareholders is not necessarily shameful or corrupt. After all, this is the goal of every company and the foundation of our market economy. However, since electric utilities, by definition, are monopolies that provide an essential service for all of us, their calls for more fixed charges to reduce risk deserve more scrutiny.
The issue at hand is not simply a matter of what solar and non-solar customers should pay. Nor is it just a matter of how to align rates with costs. We must ask instead: How will IOUs best serve the public? What risks should they assume? And how do we compensate them for performance?
Using the regulatory compact to protect shareholders from risks will only hurt shareholders. As Hempling writes: "Utilities often cite the 'compact' self-referentially, as if it is their compact, created solely to support their specific revenue needs and their specific business success."
However, this understanding "… misstates the constitutional relationship between investors and regulators, and between investment and rates. There is no 'compact' for a simple legal fact: The constitutional protection of shareholder property is far from airtight."
The push for fixed charges merely masks long-term trends for utilities, aptly described in Deloitte's "The Math Does Not Lie" series. More fixed charges do not solve the math for shareholders. Rather, they entice shareholders to invest even more – to double down when they may be holding a potential bust hand.
Regulation of monopoly franchises requires that IOUs serve the public, not the other way around. Current discussions about cost-recovery imply that the public must figure out how to pay utilities regardless of their value and prudence. But focusing on cost recovery is actually a dangerous game for IOUs. The topic invites questions utilities might rather not answer. And it opens the debate to people who do not fully understand utility regulation, whose opinions about compensation for prudently incurred sunk costs may vastly differ from those of utilities.
IOUs would be better off focusing less attention on what the public owes them and more attention on how they can best serve the public. IOUs have a great opportunity to redefine their roles, especially as public needs change. Delivering safe, reliable, and low-cost electricity is no longer enough. The public wants more choice, cleaner energy, and a more dynamic and resilient grid. Utilities can play an important role in making this happen. But they must demonstrate value and cost-efficiency in doing so.
We thus support EEI's efforts in steering utilities to a more constructive path by acknowledging the potential public benefit for more electrical vehicles (EVs) and how utilities can facilitate their deployment. EVs can reduce oil dependency, improve grid stability, and provide cleaner transportation, which comprises the largest source of carbon emissions in the U.S. after the electricity industry.
More fixed charges don't create more market incentives for EVs, however. On the contrary, they can reduce the pricing signals of variable energy and demand charges or depress the need for time-varying rates, from which EV owners can greatly benefit. And EVs are but one example of myriad distributed energy resource technologies with similar promise and benefit to the grid at large.
We recognize utilities are entitled to fair compensation and that some level of investment waste is inevitable and reasonable – even for efficient businesses. We also acknowledge that cost-shifting should not be ignored. But one-sided discussions that insist that ratepayers are solely responsible for fixed costs are counterproductive. They will hurt the public, hurt innovation, and ultimately hurt utilities' shareholders.
Editor's Note: This article is the third in a series from Tong and Wellinghoff looking at issues surrounding utilities, distributed energy resources, and the grid. The first piece addresses the common confusion over "cost-shifting" and "not paying your fair share"; the second piece argues that fixed charges are a "false fix" to industry challenges.
The series has sparked a dialogue over utility-solar issues in Utility Dive's opinion pages. Edwin Overcast, a director with Black & Veatch's management consulting business, issued a response to Wellinghoff and Tong, explaining why fixed charges are a good solution to the solar challenge. Ashley Brown, the executive director of the Harvard Electricity Policy Group, issued another response to Wellinghoff and Tong, arguing that solar should not be net metered at the retail rate. Tyler Huebner and Brad Klein, the executive director of RENEW Wisconsin and a senior attorney at the Environmental Law & Policy Center, respectively, gave their opinion on utility fixed charges in Wisconsin — and why data is the key to determining solar's real value.
If you are interested in joining the ongoing dialogue and submitting an opinion piece, please email us at utility.dive.editors@industrydive.com.