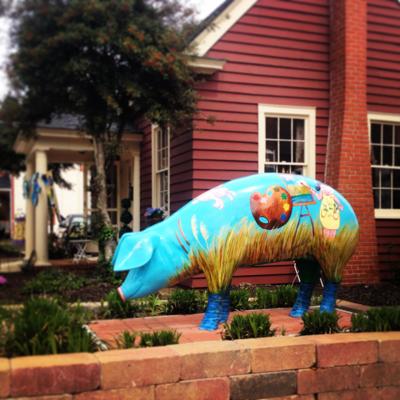 This 2014 file photo depicts a pig statue on Main Street in Smithfield. JEREMY GLOVER/TIMES-DISPATCH
Dominion Energy has a new source of fuel for its natural gas business.
The Richmond-based energy giant announced a $250 million joint venture with Smithfield Foods on Tuesday to capture methane from hog waste on farms in Virginia and two other states for use as natural gas by homes and businesses.
"It puts that part of the pig to productive use," quipped Diane Leopold, executive vice president and CEO of gas infrastructure at Dominion.
Dominion — the target of criticism for its proposed Atlantic Coast Pipeline — contends the renewable natural gas venture will reduce emissions of a primary source of greenhouse gases linked to climate change. Ultimately, the company estimates the new source of gas could displace up to 4 percent of the natural gas it extracts from the earth by hydraulic fracturing and transports by pipelines that are themselves sources of methane emissions.
"We recognize the need to reduce greenhouse gases," Dominion Chairman and CEO Tom Farrell said at a public announcement at the Science Museum of Virginia in Richmond.
The new venture, Align Renewable Natural Gas, would begin with four projects, including one at a cluster of two dozen hog farms that supply Smithfield Foods in the Waverly area of Sussex County. The other projects include major Smithfield hog farming operations in North Carolina and Utah, where Dominion operates a natural gas transmission system.
Smithfield has experimented with the technology at a pilot project in North Carolina and hog farms in Missouri, but CEO Kenneth M. Sullivan said, "No one is doing this on the size and scale we've just announced."
The system will require participating farmers to cap their hog manure lagoons in return for long-term contracts for the energy they produce. The waste will undergo a bacterial process called anaerobic digestion that produces a biogas consisting of methane and carbon dioxide — both greenhouse gases — that will be piped under low pressure to a central processing facility for clusters of hog farms.
The processing facility then reduces the moisture in the gas so it can be safely transported by pipeline to natural gas customers for home heating and other uses.
"It's basically pure methane," Farrell said.
Initially, Dominion plans to deliver the renewable natural gas to local distribution systems — in Waverly, that's mostly Columbia Gas of Virginia, with some customers served by Virginia Natural Gas.
Farrell said that as the volume of converted biogas increases, it would be carried by larger pipelines, such as the Atlantic Coast Pipeline, a 600-mile, $7 billion project that would cross through Virginia and North Carolina near the hog farms that supply Smithfield.
By carrying gas produced by fracking in shale fields in West Virginia and transported by pipelines that leak methane, the pipeline represents the climate change threat the new renewable natural gas venture is trying to reduce, pipeline opponents say.
"This news shows both that Dominion acknowledges that methane is a harmful greenhouse gas that needs to be reduced; and that it's possible to get gas from sources besides destructive fracking, pipelines, and compressor stations," said Anne Havemann, senior counsel at the Chesapeake Climate Action Network.
Farrell described the converted natural gas as "carbon negative," meaning that it would produce far less methane than the carbon dioxide that would be released when burned by gas customers. Methane is roughly 25 times more harmful to the atmosphere than carbon dioxide, although both are linked to global warming that scientists say causes climate change.
The companies said their new venture will help Virginia and North Carolina meet targets for reducing greenhouse gases under new initiatives announced by Virginia Gov. Ralph Northam and North Carolina Gov. Roy Cooper.
Northam announced a plan in September for reducing the emissions of greenhouse gases, including the methane released by natural gas pipelines, compressor stations and other infrastructure, as well as landfills.
Farrell and Leopold briefed Northam and Virginia environmental regulators on the pending announcement in a meeting last week.
The meeting attracted the attention of pipeline opponents who have criticized the governor for removing two members of the State Air Pollution Control Board before a scheduled vote next month on a state air permit for a natural gas compressor station for the pipeline in Buckingham County.
Northam did not attend the announcement on Tuesday, but Secretary of Agriculture and Forestry Bettina Ring said in a news release, "This partnership with two leading Virginia companies shows the power of Virginia's largest industry — agriculture — to promote cleaner energy, sustainable family farms, and a brighter future for rural communities here in the commonwealth and nationwide."
The initiative demonstrates a continuing cultural shift for both companies in embracing environmental protection for industries that inevitably cause pollution.
Smithfield, the largest pig and pork producer in the world, threatened almost 30 years ago to move its operations out of Virginia because of the state's new limits on phosphorus discharged in the Pagan River by the company's meat processing operations in Smithfield. A federal judge fined the company $12.6 million in 1997 for thousands of water quality violations.
Shuanghui Group, a Chinese conglomerate now known as WH Group, purchased the company five years ago. Last year, the company formed Smithfield Renewables, which established a goal to reduce greenhouse gas emissions by 25 percent by 2025.
Sullivan called the initiative "a true win-win" by providing long-term revenue streams for farmers, while better protecting hog waste lagoons from hurricanes and other sources of flooding.
Dominion, as owner of Virginia's largest electric utility and energy facilities across the country, said it already has reduced its carbon pollution by more than 40 percent in the last 10 years. It estimates that the renewable natural gas project will prevent 10 billion cubic feet of methane from entering the atmosphere, the equivalent of removing 120,000 vehicles from the road.
"With this transformational partnership, we are combining the environmental benefits of renewables with the reliability of natural gas to meet the around-the-clock clean energy needs of consumers and businesses," Farrell said in a statement.