The question that IndianaDG wants to ask is what is or will be the impact on solar from IPL's proposed increase in monthly fixed charges? The information below is just a quick sneak preview.
This document offers many suggestions on what that impact might be the if IURC approves IPL's request.
http://www.synapse-energy.com/sites/default/files/Caught-in-a-Fix.pdf
This document discusses "Reduced Incentives for Energy Efficiency and Distributed Generation" from increasing monthly fixed charges. The report includes Figure 9 below.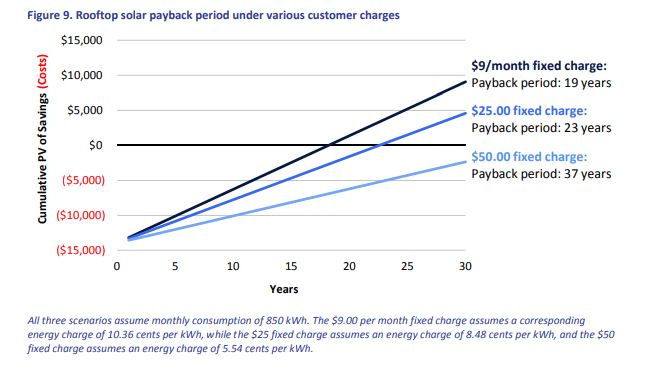 The following information is provided by the Office of Utility Consumer Counselor (OUCC) about Indianapolis Power and Light's (IPL's) rate increase in Cause No. 45029.
The next and final field hearing is scheduled for:
DATE: Monday, May 7, 2018
TIME: 6:00 pm
PLACE: New Augusta Public Academy-North (Auditorium), 6450 Rodebaugh Rd., Indianapolis, IN
The hearing will start at 6:00 p.m. Consumers are encouraged to arrive no later than 5:45 p.m. for an overview of field hearing procedures and the rate case process.
At each IURC field hearing:
Consumers will be able to speak directly to the Commission, under oath and on the record, regarding the rate case.
Consumers will also be able to submit written comments for the case record.
Comments will carry equal weight whether they are oral or written.
Commissioners are not allowed to answer questions during the field hearing. However, OUCC staff will be available before, during, and after the hearing to address questions about the process.
IPL provides electricity to approximately 490,000 customers in Marion County and portions of nine additional counties.
Under IPL's request, a monthly residential electric bill for 1,000 kilowatt hours (kWh) would rise from $112.95 to $124.38.
This would include raises to the utility's flat monthly customer charges.
The monthly charge for a residential customer using more than 325 kilowatt hours (kWh) per month would rise from $17.00 to $27.00.
For a residential customer using less than 325 kWh, the monthly charge would rise from $11.25 to $16.00.
Flat monthly charges for commercial customers would rise, varying by tariff.
The volumetric part of the base rate would also rise.
So what are the proposed increases for IPL's residential customers?
Rate RS - RESIDENTIAL SERVICE