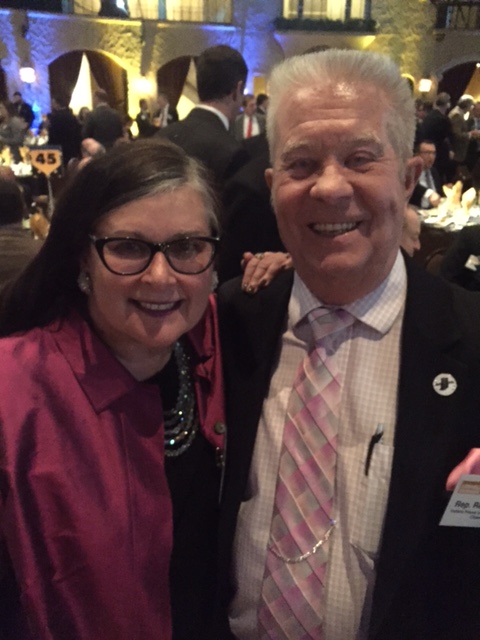 IndianaDG President Laura Ann Arnold on the left and solar home owner Rep. Ron Bacon (R-Chandler) on the right.
Laura Ann Arnold
545 E. Eleventh Street
Indianapolis, Indiana  46202-2627
(317) 635-1701
(317) 503-5123 cell
Laura.Arnold@thearnoldgroup.biz
May 1, 2017
Governor Eric Holcomb
State House
Indianapolis, Indiana  46204
RE: (1) Veto SB 309; (2) Ask IURC to Do Cost-Benefit Study of Net Metering; and (3) Create State Energy Policy Process with ALL Stakeholders
Dear Governor Holcomb:
Indiana Distributed Energy Alliance (Indiana DG), a non-profit corporation with a broad coalition effort amongst businesses, individuals, elected officials, and other organizations, respectfully requests your help and leadership in advancing energy policy for the State of Indiana.  First, we ask that you veto Senate Bill 309.  Second, we ask that you direct the Indiana Utility Regulatory Commission (IURC) to do a cost-benefit study of net metering as it is the agency with the technical expertise most qualified to examine this important policy enacted under the Daniel administration.  Finally, we ask that you lead Indiana with a robust state energy policy process that involves all stakeholders.
Veto Senate Bill 309
First, I respectfully request that you veto Senate Bill 309. On Monday, April 17, 2017, a group of business members with IndianaDG and I met with Rebecca Holwerda, Policy Director and Legislative Affairs for the Office of the Governor.  At that time, I gave a presentation providing background and information concerning our request for you to veto SB 309.  I'd like to clarify a number of issues that will further demonstrate why a veto of SB 309 is the right decision for your Administration.
SB 309 threatens the ability of Hoosiers to install and to recoup the cost of an investment in solar, small wind or other distributed generation energy systems. Under SB 309, after December 31, 2017, investor owned electric utility customers will have a shorter amount of time to (1) recoup the cost of their personal investment in an energy system for their home or business, and (2) enjoy continued energy savings for the duration of the life of this investment. If prospective solar customers merely recoup the cost of their investment without time to enjoy the financial benefits, the majority of them just won't GO SOLAR.
Two Indiana investor owned electric utilities, Indianapolis Power and Light (IPL) and Northern Indiana Public Service Company (NIPSCO), have already provided extensive incentives for solar and distributed generation through a pricing mechanism called Voluntary Feed-in Tariff (VFIT or FIT) programs. I participated in all three of these cases before the IURC (Cause Nos. 44018, 43922, and 44393).  From those programs, (1) more than 100 MWs of voluntary FIT contracts with IPL and NIPSCO were produced; (2) IPL has 97 MWs of solar photovoltaic (PV) FIT 15 year contracts with payment to customers of $0.20 to $0.24/kWh; (3) NIPSCO has 15 MWs of solar PV FIT 15 year contracts with payments to customers ranging from $0.26 to $0.30/kWh with 2% per year price escalators.  Compare that to the mere 20 MWs of net metering distributed generation that is paid for at the retail rates, or an amount that is 2-4 times the retail rate.  See slide 17 in the attached PowerPoint.  It is also important to note that most of the electricity produced by solar net metering customers is consumed directly by the customer, and thus, at times, NO payment to the net metering customer is necessary.
The fundamental difference between these VFIT programs and net metering is the utility's cost recovery. It appears that the real issue IS NOT a so-called subsidy but rather the utilities' ability to obtain quick cost recovery with the VFIT programs via the quarterly Fuel Adjustment Clause (FAC) process filed before the Indiana Utility Regulatory Commission. SB 309 will take away the kWh for kWh swap that net metering provides and instead provide this coveted cost recovery FAC mechanism for net metering experienced by the utility. If the utilities' real concern is just obtaining this covered FAC cost recovery mechanism for net metering customers, why is there so much more in SB 309 that takes aim at net metering customers and an industry that is growing Indiana's economy and job opportunities?   
The real question is who will control the utilization of solar technology. Will solar energy be owned and controlled by monopoly electric utilities or individual utility customers? What will the impact of changes in net metering do to the distributed generation market in Indiana?
Direct IURC to Do Cost-Benefit Study of Net Metering
There is a desperate need for real Indiana based data and information concerning the impact of net metering. As has been done in numerous other states, Indiana needs a cost-benefit study performed by the Indiana Utility Regulatory Commission (IURC).  There was considerable discussion amongst state legislators about the need for such a study to provide state lawmakers with real tangible data to then evaluate and make appropriate energy policy decisions.
Several proposed amendments were drafted yet not offered to send this issue to the IURC, however, opponents advanced the notions that (1) the IURC did not want to do such a study, and (2) the results of such an IURC study could be worse than SB 309.  In fact, during my recent personal discussion with IURC Chairman Jim Atterholt, I was told that the IURC did not convey to state legislators they were not interested or unwilling to do such a study.  Rather, the IURC wants specific direction on what they should examine and how they should perform such a study of net metering.
The notion that the IURC would make proposed changes itself via an order or administrative rulemaking without due process is not plausible, yet this is what state lawmakers were told by the opposition. Specifically, opponents compared the IURC to a strange, ill-fated action that occurred before the Nevada Public Utilities Commission (NV PUC). The NV PUC took action on net metering with disastrous results to the solar industry, resulting in the Governor choosing not to reappoint two of the PUC members who were involved in this action and in the Nevada state legislature currently working to reverse the result of the NV PUC action.  However, the NV PUC is not an appropriate comparison to the IURC.  First, the IURC has never done such a thing and is instead awaiting direction from the Governor. Second, the solar market and net metering in Nevada is very different than here in the State of Indiana.
Solar Net Metering Comparison of States
See also Slide 18 from attached PowerPoint.  This shows that Nevada is the 6th state in solar net metering capacity per residential customer, while Indiana is 39th.  The fact of the matter is that Indiana is far behind in terms of net metering, and a cap is already in place in the IURC's current net metering rule.  Once the cap in the IURC's current net metering rule is reached, that would've been the more appropriate time to have a discussion.  But, if legislators would like to know more information about the impact of net metering now, an IURC conducted investigation would be the more appropriate thing to do, rather than a rush to end net metering in 2022 with state legislation in 2017 that has no IURC-backed investigation to support such a drastic action.
Create State Energy Policy Process with ALL Stakeholders
I implore you to take steps to create a new Indiana State Energy Policy that involves ALL stakeholders and is open and transparent. Former Governor Mike Pence began such a process, however, it was shutdown barely after it was started. I personally participated in another such process conducted by former Lt. Governor John Mutz in the early 1980s.
Net metering is not the only issue worthy of a comprehensive policy review. For instance, updating avoided cost rates would be another worthy exercise that could provide great gains in customer-owned generation if conducted.  The State of Michigan has recently undergone such an exercise, reviewing rates under the Public Utility Regulatory Policy Act (PURPA). See http://www.michigan.gov/mpsc/0,4639,7-159-16393_74342---,00.html.
Other states including Illinois have also initiated comprehensive energy and utility policy reviews.  Before we have another wave of utility-backed legislation, direction like a comprehensive energy and utility policy review from the Governor may prove useful to legislators in the future.
Thank you for your consideration of my three requests: (1) Veto SEA 309; (2) Ask IURC to Do Cost-Benefit Study of Net Metering; and (3) Create State Energy Policy Process with ALL Stakeholders.
I stand willing and ready to assist you and your Administration.
_____________________________
Laura Ann Arnold
545 E. Eleventh Street
Indianapolis, IN 46202-2627
(317) 635-1701
(317) 503-5123 cell
Laura.Arnold@thearnoldgroup.biz
---
LAA Letter to Governor Holcomb_2017-05-01
This PowerPoint document was shared with the Governor's Office on 4/17/17 and provides additional background and history of net metering in Indiana.
Presentation for Gov Holcomb on SEA 309_v11
---